Poehler, Hardwick Represent Comedy Central at TCA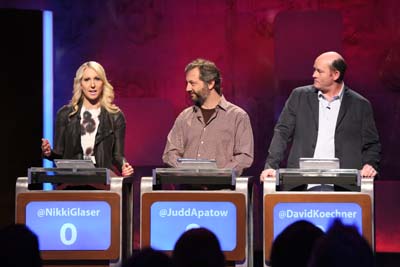 "@midnight" guest panelists (left to right) Nikki Glaser, Judd
Apatow and David Koechner on the November 12, 2013 show.
From executive producer Amy Poehler, Comedy Central's Broad City (premieres Jan 22) follows two young women as they attempt to navigate the urban insanity of New York City. A lot of the material and bizarre situations depicted in the show—from to dating and relationships to underemployment—are grounded in things that actually happened, according to co-creator and actor Abbi Jacobson. For Poehler, the intent was to take "a simple task and show how difficult it is to get done in New York," she said. It's a great time to be on television—particularly for women, Poehler said. "There's so much good female comedy out there and a lot on Comedy Central," But as far as "women's comedy," per se, the "Parks & Rec" star doesn't think there is a such a thing. "I think it's just all comedy," she said.

Comedy Central's late-night game show @midnight is essentially an excuse to let comedians be funny about what's happened on social media that day, according to "Talking Dead" host Chris Hardwick. It's a fake competition, in that there are no prizes, "but comedians are essentially playing for their egos, which is a much more valuable prize than anything else," he said. And comics thrive on competition. "What's great is that we keyed into that," said executive producer Robert Ben Garant. Hardwick emphasized that the energy on the show is very positive. "I think there's a lot of cynical comedy in the world," he said. But to be funny, "I don't think we have to be mean to people." The series started a four-week run in the fall.