Pets Go to Therapy in 'HouseBroken'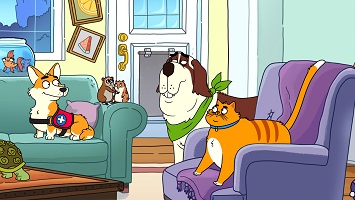 Many people have probably wondered what their pets are thinking at least once. Executive producers Gabrielle Allan, Jennifer Crittenden and Clea DuVall each wished they could go to therapy with their pets to solve the mystery. While that's not possible, the trio did come up with animated comedy "HouseBroken" that lets viewers get a glimpse of what their pets might say if they went to group sessions.
"Often people will say 'nothing's going on with them, they're just thinking about chicken' and that's probably true, but sometimes it is a little bit more complicated. Especially if you've ever gone to a pet psychic or just noticed the fact that they pick up on all your neuroses. I worked with a trainer who was all about that, 'any anxiety your pet has is just because of you and you need to work out your own stuff, and then your pet will be fine,' so all of that is just really fascinating," said Allan, co-creator, ep and co-showrunner of HouseBroken.
The show finds the humor in a group of dogs, cats and other pets in a group therapy setting. A poodle named Honey, voiced by Lisa Kudrow, is their pseudo-leader each session, struggling to maintain control of not only the session, but the circumstances surrounding her own life. While the series is animal-centric, each character has relatable human qualities. Tabitha is aging out of the show cat circuit as fellow feline Chico binge eats to cope with separation anxiety when his owner leaves for work.
"What we were trying to do, which is another favorite aspect of mine, is deal with human issues through the lens of pets. It just feels a little more palatable. There's things that we can broach that can be uncomfortable and sort of examining them through the lens of animals makes it a little bit easier, and so I hope that people actually relate to some of their issues," Allan said.
HouseBroken premiered Monday at 9pm on Fox.