Outdoor Channel Goes to Comic-Con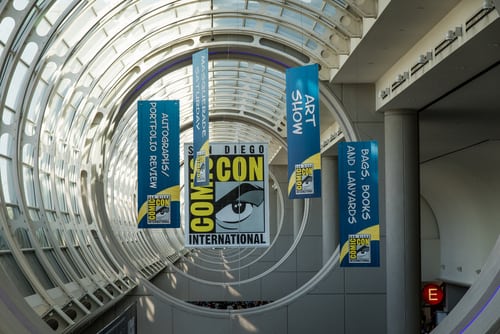 San Diego Comic-Con is known as the place for fans of all things comics and pop culture to join together and celebrate the properties they love. It's an obvious destination for AMC's "The Walking Dead" or HBO's "Game of Thrones," which have been staples at the convention since their first seasons.
It's not necessarily the place you'd expect to find a network devoted to fishing, hunting big bucks and shooting sports events. But Outdoor Channel is getting in on the huge entertainment convention, which kicks off Thursday. The network's "Hollywood Weapons" host Terry Schappert and Larry Zanoff, both firearms specialists, will take part in a panel discussion entitled "The Art and Science of Film Pyrotechnics and Firearms" Saturday at 5:30pm PT in Grand Room 3 & 4 at the Marriott Marquis San Diego Marina.
It's not just Outdoor's first trip to Comic-Con. It's the first time the network has made any kind of appearance at any kind of fan convention. The panel, moderated by Fast Company's Susan Karlin, will explore the science behind how the most iconic action sequences are created, and whether they could actually occur. Tips for getting into the film and special effects business will also be offered by the expert panelists, including Thomas Seymour ("Criminal Minds"), Robert "Hutch" Hutchins ("Apollo 13") and Dimitri and Beckie Timohovich ("Team America World Police").
Although it may not blend in with the hordes of swordsmen and superheroes swarming the convention grounds, Outdoor Channel is excited at the opportunities an event like Comic-Con could bring.
"It's an interesting situation because you wouldn't think that Outdoor Sportsman Group and Comic-Con go hand in hand, but in this case, it does," explained Tom Caraccioli, vp of communications for Outdoor Channel parent Outdoor Sportsman Group. "We're excited because it opens our networks and our content to an audience that maybe hadn't really ever thought about our networks before."
Outdoor's presence at Comic-Con was brought to Caraccioli's attention by Karlin during a conversation regarding a different project, when it occurred to her that "Hollywood Weapons" would fit in well with the panel. Attending Comic-Con could expand the identity of the network, which is mostly composed of programming relating to hunting and fishing.
"Hollywood Weapons" analyzes famous action scenes from film and television, breaking them down and testing the weapons used to determine whether the sequence is grounded in reality or is a work of fiction. Schappert, a former Green Beret, and Zanoff, head of armor at Independent Studios Services, will also be signing autographs for fans prior to the panel.
Outdoor Channel's appearance at this year's Comic-Con will serve as a test run for the future, according to Caraccioli, potentially leading to a greater presence in the years to come.
"It just seemed like a natural fit this time, and you never know where these things will head," he said. "We'll see how it goes. It's so new to us."