Outdoor Channel's Tour of Duty Enlists MSOs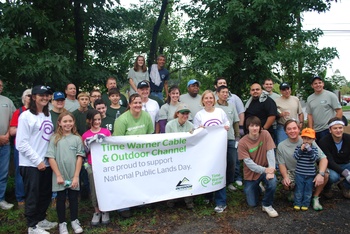 Volunteers from Time Warner Cable New York, Outdoor Channel
and community members took to clearing debris at Pouch Camp
in Staten Island, New York, on Sept 24.
Outdoor Channel has teamed up with several cable affiliates across the country for its 2nd annual "Conservation Tour of Duty," part of the channel's ongoing Outdoor Channel Corp initiative, a philanthropic effort to restore and preserve public spaces for future outdoor enthusiasts. Last year the Tour's hands-on projects drew about 2,500 volunteers and resulted in the collection of 3,000 pounds of debris and clearing of 20 miles of trails and shorelines. The events began on Sept 11 and will run through Nov 18.
MSO sponsors are Time Warner Cable New York, Comcast Pennsylvania and Oceanic Time Warner. On the heels of last year's success, the program attracted additional sponsors for the 2011 series, including Pennsylvania-based MSOs Armstrong Cable and Atlantic Broadband, as well as and Suddenlink Cable affiliates in Texas and Oklahoma.
Outdoor Channel is providing cross-channel spots for affiliates to promote the individual events. The channel has also provided co-branded signage and posters for MSOs to use in their local markets. Employees from each affiliate are participating through company volunteer initiatives.
Some stats are in on the Tour of Duty's impact thus far. On the Sept 11 park clean-up and picnic in Meadville, Pennsylvania, co-sponsor Armstrong Cable welcomed more than 600 volunteers, who recovered a total of 23,500 pounds of debris from Bicentennial Park. At the Sept 24 event at Pouch Camp in Staten Island, New York, co-sponsored by Time Warner Cable, 35 volunteers from TWC, Outdoor Channel and the community cleared large bushes—each spanning 15-20 feet—of invasive species from the Boy Scout camp grounds. On the same day Comcast Pennsylvania raked in 70 volunteers to do trail maintenance, which included activities such as building benches at the park's scenic lookout spot.