NUVOtv's 'Los Jets' Shines Spotlight on Immigration Reform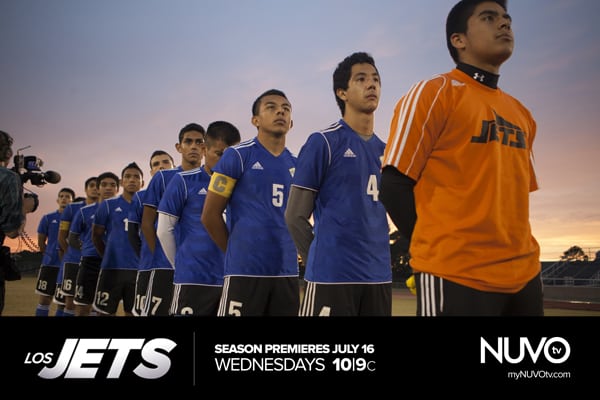 The first program under NUVOtv's Nu America umbrella—defined by the network's CEO Michael Schwimmer as "topical storytelling with social commentary"—chronicles a high school soccer team in Siler City, North Carolina, as it seeks to win the state championship. But "Los Jets" is about so much more than the beautiful game.
The Jordan Matthews Jets soccer team is comprised entirely of sons of Latino immigrants, many of whom are undocumented. As such, immigration plays a significant role; some boys live in fear of family members being deported and others' futures and education are limited by their undocumented status. The series focuses on four senior boys—two with legal status and two with illegal status—as they struggle on and off the field to contribute to—and be accepted by—their communities. The final episode of the series airs August 13, at 10pm.
A microcosm on the United States' rapidly growing Latino population, the community's demographics play an integral part in the storytelling. The town was 80 percent white and 20 percent Latino when Coach Paul Cuadros first demanded the formation of a soccer team nearly 13 years ago. Today, 68 percent of the student population is Latino. "It's about soccer at the heart of it, but it's also about the face of America changing," said Lynnette Ramirez, svp of programming and development for NUVOtv and Fuse. "Athletic programs in high schools are being cut, yet they are really the place where communities come together and learn about each other culturally." Creator/director Mark Landsman added that it reflects "who we are right now as a country…My hope is that Los Jets puts a human face on a story so often polarized in the media."
The way in which Latino immigrant youth are integrating in schools, particularly in the rural south, was an inspiration for the show, according to Coach Cuadros. "So often our Latino youth are not portrayed in a real light in American media and are instead cast as a troubling or troubled group of kids. That's just not the real story," he said. Cuadros hopes that the series has shattered the numerous myths surrounding these youth. "What we see in this show are just regular teenagers, trying out for their school team, training and playing hard, becoming Homecoming Kings and Queens, having teen love, and striving to do their best in some really tough circumstances including poverty and their immigration status, all the while dreaming of going to college and making a difference with their lives," he said. "It's timely, it shows the hidden story of immigration and integration, and diffuses the hard line rhetoric about immigration today with touching stories and moments of real kids."
Indeed, the portraits painted ring true, with accounts of their experiences, hopes and dreams often accompanied by tears. Stories of crossing the U.S. border chronicled by the boys and their families are particularly harrowing. Once told, they add new meaning to the players' performances on the field. Each one is seeking to prove himself not just to an American football-loving administration, but to their families and, perhaps most importantly, to the world.