New Arthur Ashe Roof Shines at US Open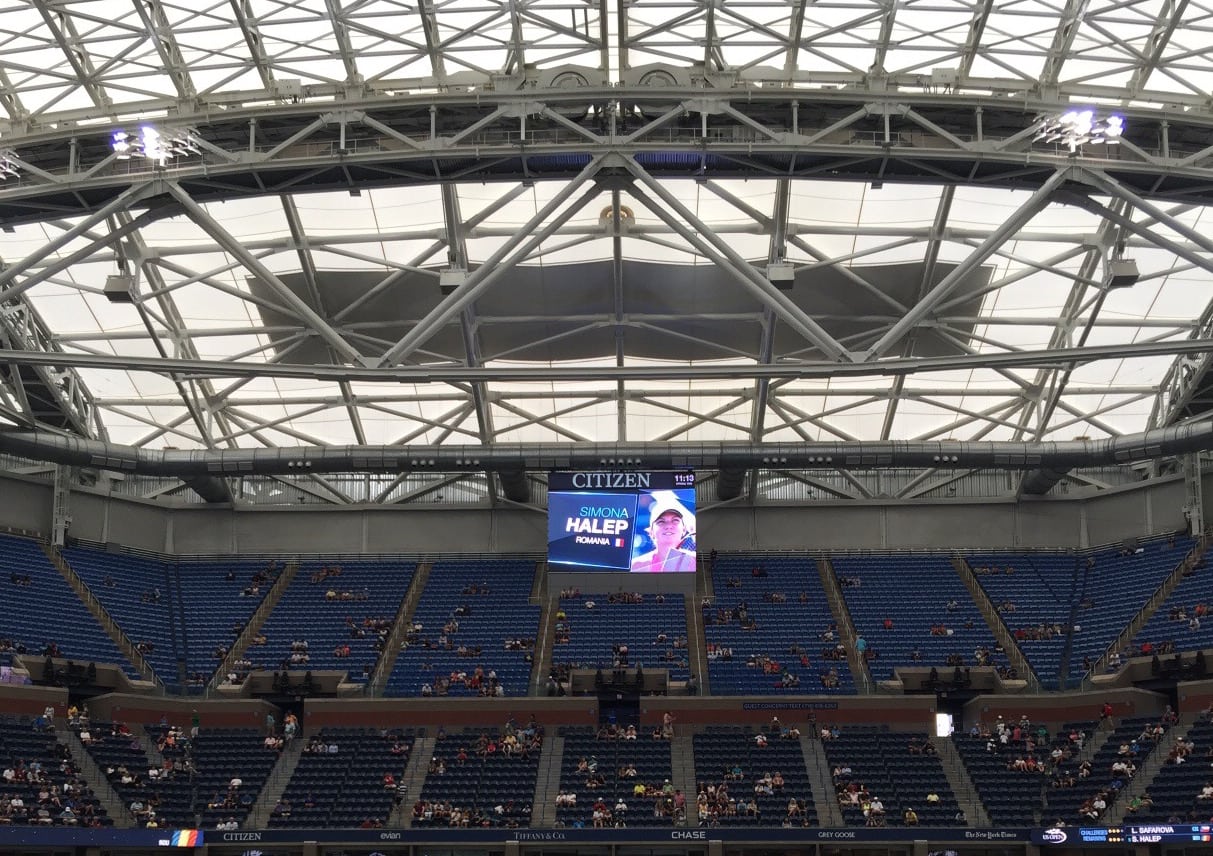 The 2016 US Open is now in full swing, and the big story from a production standpoint is Arthur Ashe Stadium's fancy, new rain-or-shine roof. It was expected to be used for the first time during official play today, September 1, as a steady rain has covered the borough of Queens, NY, since morning. But the opportunity came early. The call was made Wednesday night at 10:40pm during a match between Rafael Nadal and Andreas Seppi to close the roof, which happened under 6 minutes. Rain delay no more.
The new roof undoubtedly changes things from both a production and programming standpoint. Rain delays typically meant that you had to create coverage on the fly, according to ESPN execs. (2016 is the network's 2nd year as exclusive provider of the live matches.) "We had a couple rain delays last year, which always throws us for a loop, because you get into a situation where you've got nothing really live to put on TV, so you have to go around and use all your resources on site," programming senior director Sonia Gomez told Cablefax. But though a challenge, it also creates an opportunity for both talent and production to do what they do best. It comes down to tracking down players for live interviews, creating highlights from previous matches and adding commentary on the storylines they've chosen to run throughout the duration of the event. "Our folks shine when it comes to that—they're so used to it," Gomez said. "This year with the new roof there's always going to be a court in play—and that's big for us."
But ESPN production vp Jamie Reynolds refers to it as a "double-edged sword." "We love the opportunity to have those rain delays occasionally because it gave a 14-deep roster group of talent to jump on camera and get into our whip-around, talk through tennis news, updates, spark the daily debate, so to speak, and not miss any action until the rain delay came to a conclusion," he said in a recent ESPN conference call. "So that was a win for us. The other side of it, if it lasted too long, gosh, we have to figure out how to come up with three hours of fill. In this live world that we all live in and exist in right now, live social currency, it's tough to go back and replay a match."
Programming svp Scott Guglielmino said that scheduling and programming will be easier for his team. "I think also it helps, with a two-week event like this, us not get backed up and be able to continue to feed specifically the primary TV hours on ESPN, ESPN-2." There are added variables, like switching from court to court (with 2 added courts of TV coverage this year), but it's still one less variable to juggle, he said. Still, that varied coverage can add color. As the exclusive TV rights holder "we have the luxury now of moving around and telling all those stories," Gomez said.
So how will the new roof affect play? Sound may be a factor. At least one player has told ESPN commentator and former tennis pro Brad Gilbert that with the new design conversations in the crowd are far easier to hear from the court. "For me, courtside, it sounds better because I can hear the ball. But when the roof closes, how does the sound magnify the intensity from the crowd?"
A key adjustment from a TV production standpoint is lighting, Reynolds told reporters on ESPN's US Open media day on Wednesday. "It's tweaking the cameras for the light levels—that's the basic… We're riding levels throughout the entire match during the afternoon," particularly as shadowing travels from west to east. Secondly, though the lighting scheme in the evening is terrific, the audio mix is more fragile. "That's probably the most delicate to fine tune," he said. "We had this strategy of where we were placing microphones to get as much audio off the court as possible and get that fan experience as well—what's the right blend, how do you make that cocktail? We're up to 12 matches so far and we're still kind of tweaking as we go. Are the mics in the right place? Are we getting too much of the crowd? Are they not focused well enough on the court surfaces themselves? We're experimenting on that dynamic and getting the mix level proper." And rain, well, it's not an easy thing to plan for. "We're all learning at the end of the day, and how this thing really operates."