MTV Reels in Catfish Publicity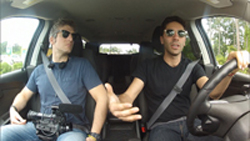 "Catfish" filmmakers Max Joseph and Nev Schulman
There may only be one thing that's 100% clear in this whole Notre Dame linebacker fake girlfriend scandal: MTV is reaping plenty of free publicity.
The ubiquity of the term catfish (to pretend to be someone else using social media, particularly to pursue deceptive online relationships) in the past 24 hours has reached well past the Millennial generation. In a press conference Wed night, Notre Dame Athletic Director Jack Swarbrick likened the situation with Manti Te'o to an episode of MTV's "Catfish," and suggested people acquaint themselves with the show or movie to understand why he believes the football star was hoaxed.
"I would refer all of you, if you're not already familiar with it, with both the documentary called 'Catfish,' and the MTV show which is a derivative of that documentary," Swarbrick said. "It's a scam. I'm probably revealing my television watching habits, but it was covered by 'Dr Phil' extensively recently that follows the exact arc of this…and it's perpetrated with shocking frequency for me shocking as an older guy who's not as versed in the online world and it is just as this one. An initial casual engagement, a developing relationship online, a subsequent trauma traffic accident, illness and then a death."
The Catfish links don't end there. The Deadspin article that broke the news of the pretend girlfriend reported that an account associated with the scandal was using the image of a woman who had contacted Nev Schulman, exec producer and star of MTV's Catfish.
Schulman confirmed to MTV News that this person had contacted him. "Someone tweeted at me, because she was trying to get ahold of me to help her with something related to her image being used in some kind of 'Catfish' hoax,"
he told MTV News
. "And, having just heard of the story, I went into my 'Catfish' email account, and I have an email from this said person from December that I had not seen, where she does ask for help in regards to someone who was using her picture to create a fake profile. So there's definitely a connection, and this person obviously knows of me and the show and was making an effort to somehow get to the bottom of this." And recently he tweeted this: "I am working on finding out more about this @MTeo_5 #Catfishstory. I have been in contact with the woman involved and will get the truth."
"Catfish" the TV show is already doing well for MTV. Viacom CEO Philippe Dauman has touted it repeatedly as having helped the net's ratings slump. The dating series, which premiered Nov 12, has become MTV's highest rated series premiere at 11pm in network history. New eps began airing last week, with the Jan 7 ep averaging 2.5mln total viewers. The verdict is out on whether all this free press will help the ratings, but we're pretty sure Dauman is enjoying the publicity. Anyone else miss the days when catfish was something you caught in a pond?