Move Over Captain America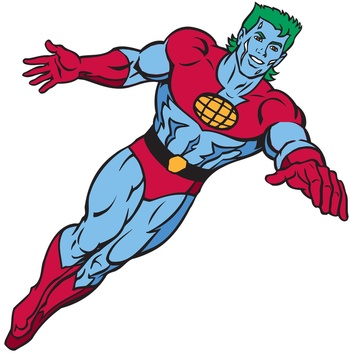 With climate change on everyone's radar these days, it's about time an eco-hero arrived on the scene. Cartoon Network has announced that Ted Turner's "Captain Planet and the Planeteers" animated series will be resurrected into a live-action film. Created by Turner in 1990 with DIC Enterprises, the original series followed the Captain who, aided by a high school gang of green-leaning Planeteers, embarks on various adventures to fight eco-evildoers. The net has inked a deal with Angry Filmworks, the production company behind the successful "Transformers" film franchise, to develop and package the superhero. CableFAX caught up with Stuart Snyder, president and COO of Turner's Animation, Young Adults and Kids Media division in between panels at Comic-Con.
How long has the deal been in the works?
We've been working on the idea of a Captain Planet feature for some time. Once we connected with Don Murphy and his company Angry Filmworks, we came away from that conversation and those meetings [knowing] that he was the right producer. I've been having conversations with several folks over the years, and Don was one of the companies that had approached us.
Why did you decide to go with Angry Filmworks?
In the end it was Don's track record—when you look at what that team has done with the "Transformers" franchise, it's been tremendously successful. Combine his track record with his passion for the character and the vision and the storytelling—that really made me believe that he and his company were the right caretakers to develop the project.
So we can expect a series of films?
Certainly we expect more than one! We're looking at this as a re-launching of the Captain Planet franchise for the world of 2012 and beyond.
How is Don Murphy passionate about Captain Planet?
First of all, he watched "Captain Planet" when it was on and popular. He's very familiar with the show and the characters. And I think he connects with the values of Captain Planet—and we share this [viewpoint]. The values and the messaging of Captain Planet are very much connected to current times. But we've been working on the idea of bringing back Captain Planet in some type of format, either in feature film or more television, for a number of years now.
How will Captain Planet battle climate change?
We haven't gotten to the point of ironing out specifics of the story, but certainly I would not be surprised if climate change was a part of something that would be developed.
In June, you signed a similar deal with director Joel Silver ("Sherlock Holmes," "The Matrix") to develop your animated series "Ben 10" into a feature. Is making feature films part of an overall strategy?
The strategy is based on each of our properties and franchises—expanding them at certain right times for each brand. We felt that "Ben 10," with all of its global success—as a cartoon, its consumer products success, and based on its popularity—we felt like the timing was right to go to a feature film. With Captain Planet, we have a character that has not been very active in a long time but has tremendous awareness with parents. It's still airing on Boomerang, and it deals with topics that are very relevant—I would say even more relevant—than in the'90s… regarding climate change, pollution and everything else. So here is an opportunity to look at, how do we re-launch one of our iconic characters? The strategy is really looking at a per character basis, full-brand basis, and how feature films play a roll in either launching or expanding the brand.
What is your focus at Comic-Con?
We're doing a tremendous amount of panels, really promoting our line of comedies. "Adventure Time" is a huge priority because of the gaining popularity there. We're also working closely with our partners at Warner Brothers and DC Nation—which includes the Justice League and the Green Lantern animated series. So we'll be talking about the introduction of that brand in 2012.
And now for the most important question. In a battle between Captain Planet and Captain America, who would win?

Captain Planet—because he can fly. Captain American can only run and ride.