Millennials Loyal to TV Brands Across Platforms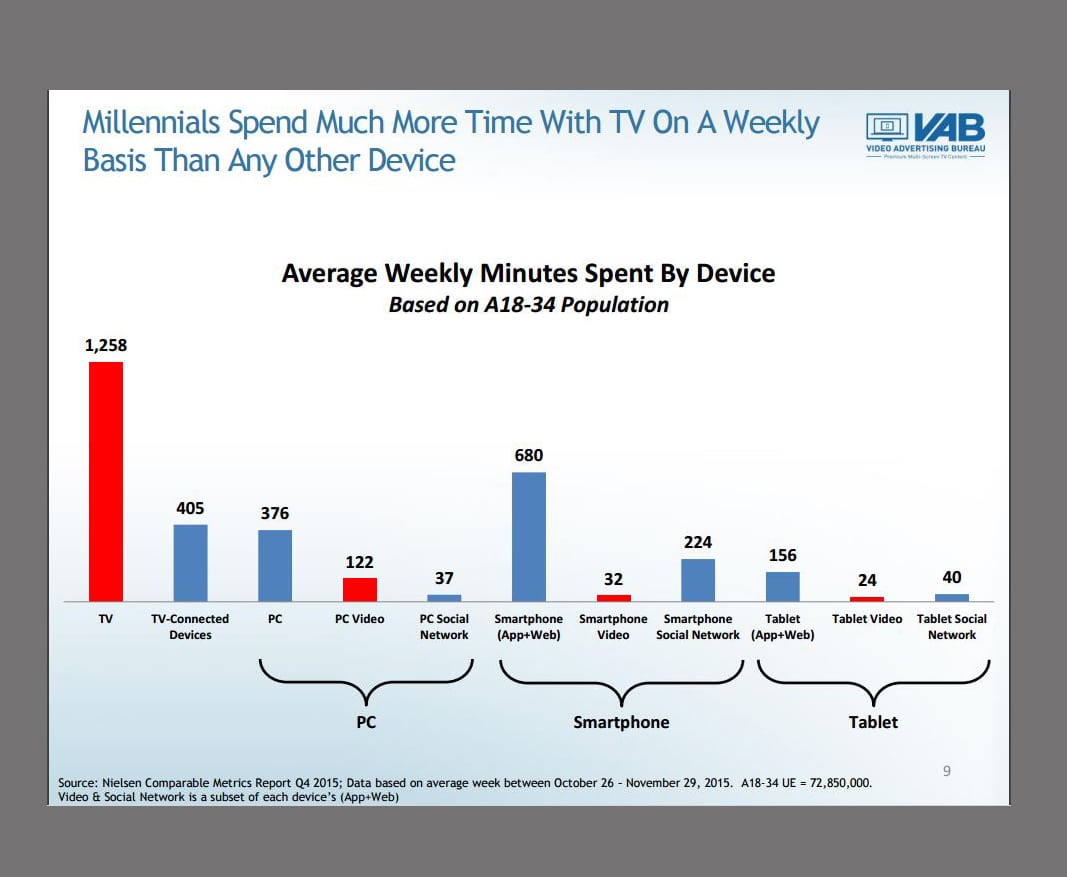 Though it's often said that millennials prefer brands and creators on YouTube to those on traditional TV, the Video Advertising Bureau has put together a compilation of insights on the demo from Nielsen, comScore and other sources that suggest millennials favor TV brands. Not only does TV take all across personal, social and commercial levels, but when it comes to scale, time and impact, TV wins.
On a time-spent basis, millennials spend more time on TV than any other device–adults 18-34 spend 1258 minutes per week on TV, with smartphones (app+web) coming in second at 608 minutes, according to Nielsen's comparable metrics report in Q4 2015. Ad-supported TV (broadcast + cable TV) maintains a greater average monthly time spent than YouTube–TV holds 82% while YouTube holds 18% for 18-34 year olds (Nielsen R&F Time Period Report Live+SD, Total Day 5/1-5/31/16; comScore Media Metrix (multiplatform) May 2016). Time spent translates to commitment, interest and loyalty.
The number of millennials watching is also impressive. TV shows have a greater average monthly cumulative audience than YouTube video channels, TV with 41.5 million versus YouTube's 27.7 million (VAB Analysis of Nielsen Npower / R&F Program Report). Millennials also favor live TV over playback. For adults 18-24, millennials consume fourteen hours and forty-eight minutes of live TV per week, compared to one hour and thirty minutes of playback TV (Nielsen Total Audience Report, 1Q16).This wide gap could be attributed to millennials' desire to keep with up social media's never-ending stream of live posts and tweets. That would explain TV stars having larger social media followings than their YouTube counterparts–averaging 2.9 million Twitter followers for TV and 2.7 million for YouTube (VAB analysis of millennial-aged TV and YouTube personalities' Twitter accounts, Nov 2015).
Now why does all of this matter? VAB claims that millennials' commitment to TV brands demonstrates to marketers that TV is an effective advertising outlet. Effective advertising translates to sales. "Marketers need to refocus on the big picture," said Danielle DeLauro, svp of strategic sales insights at the VAB. "Most importantly, millennials are persuaded by advertising on TV which is driving billion-dollar categories in mobile apps, gaming and fantasy sports." Read more about millennial video viewing here.