'On the Menu' at a Restaurant Chain Near You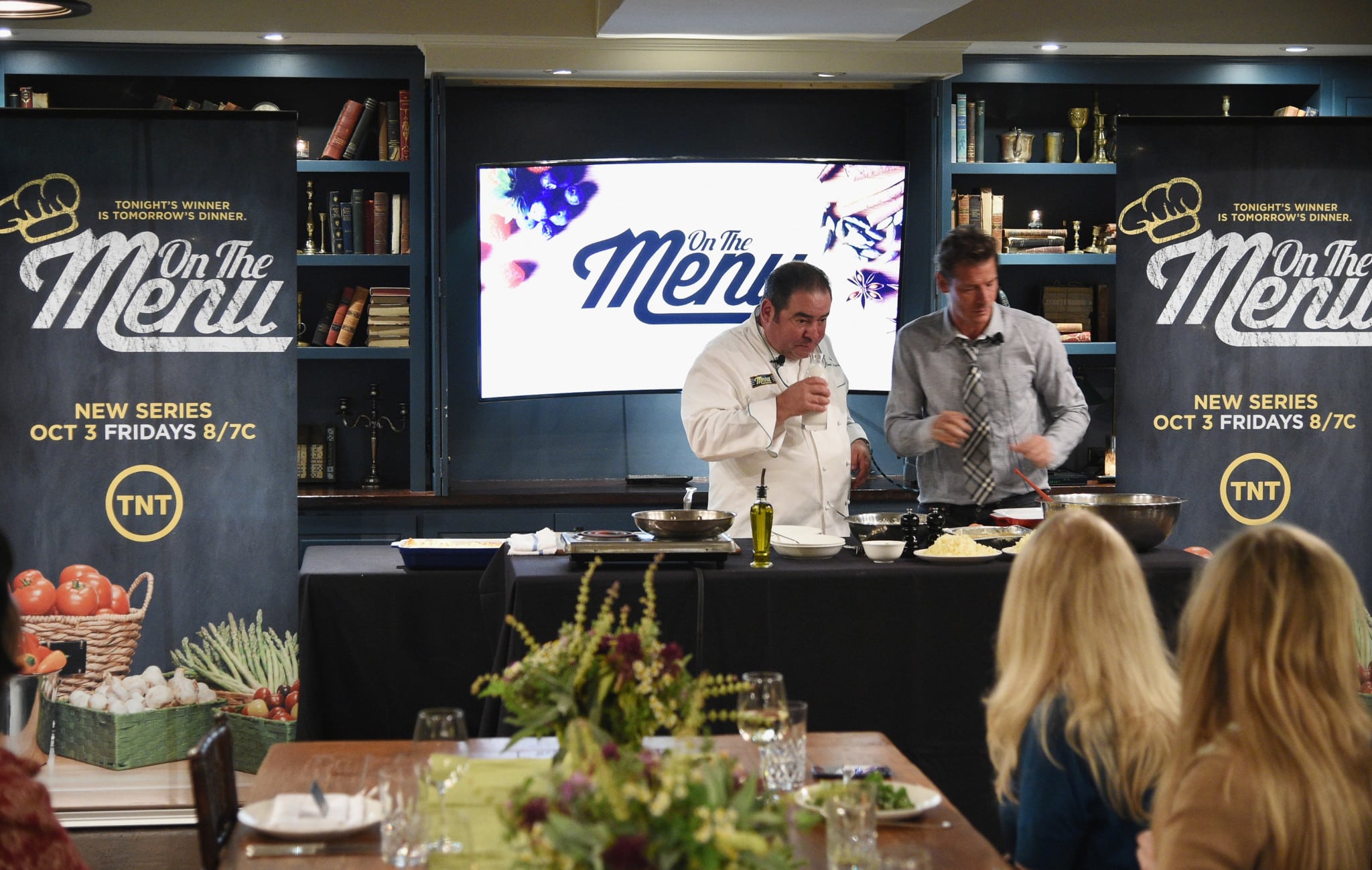 By definition, cooking competition shows have constraints. It might be about a chef's knowledge or the limitations imposed by ingredients at their disposal. And it's always about time. But TNT's new show "On the Menu" premiering Friday at 8pm, hosted by TV home improvement guy Ty Pennington and the legendary Chef Emeril Lagasse, is about operating within the constraints of major American restaurant chains—like Chili's, Buca de Beppo and Denny's.
Clearly they're not going for elitism with this one. Each episode features four everyday contestants (read = professional chefs need not apply) vying for a chance to put their dish on the menu of a particular restaurant chain. There is prize money of $25,000 for the winner of each episode, but the real treat might be that viewers watching the show Friday night can order that same dish at, say, Olive Garden, the next evening. So it's not just about the best tasting dish. Factors like prep time and cost weigh in as well.
At a cooking demo by the hosts in NYC last week, Emeril explained what's most exciting for him about the series. "What's really great for me… is seeing these cooks from all over the country who are coming in—and maybe it's a dish of their grandmother's or their mom's or aunt's—and just trying to make it a little bit better, a little bit more special so they can get on the menu." He talked up the pedagogical element, too: "If you don't learn something every day about cooking… then you're really cheating yourselves," he said, and with amateur chefs, there's quite a learning curve. "Every day we learned something about a different technique, a different twist, a different combination of ingredients, a cooking method."
Likewise, Ty talked up the contestants' amateur status. "I love rooting for the underdog. They're not fancy chefs who use sea foam and things like that. It's real people. What's really great is to see people put their heart and soul into something," he said. He may know more about a hammer and nails than he does about food, he confessed, but he's certainly an expert on traveling to small towns and getting to know the real America. "Let's face it. You have the one diner in town, but the restaurants you go to are these chains. That's what America is now."
So how do you choose which restaurants to feature? Executive producer Dean Houser said that was the hard part. Though many brands were interested, it was a challenge for the chains to get the dish ready to execute in time. "From the moment it's finished shooting to when it aired, they had to get all their stories ready to have it on the menu and ready to serve," he said. "Some people were scared of that and some people stepped up to the challenge—and that's who we ended up going with."
Emeril hopes that the restaurant chains themselves will benefit from the show as much as the contestants do, because it will give them an opportunity to rebrand. "The interesting thing for me as a restaurant guy is that a lot of these people that we're working with have been around for a while," he said. But they're updating their menus and renovating their establishments. "They're trying to move the bar in what their restaurants and what they stand for."