A Mad Question for Some Mad Men (and Women)
Judging from the marketing around the April 13 premiere of "Mad Men's" final season, things are about to get pretty psychedelic. So it seemed like an opportune moment to ask the Mad Men cast gathered at Paleyfest in L.A. Friday night to answer an EXTREMELY IMPORTANT question about the late 1960s:
"If your character ended up at Woodstock, what would he/she be wearing, drinking or smoking?"
As we suspected, it turns out that most of the Mad Men characters wouldn't be caught dead at the 1969 Festival of Peace & Love. Does that make it a stupid question? Yes it does. But at least we got answers (sort of), unlike those who asked for plot details from the new season.
So here we go…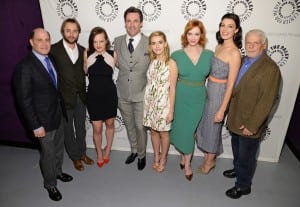 Jon Hamm ("Don Draper")
"He would probably be wearing his clothes from the office, and he probably would have been kidnapped by some hippies or something in a horrible bar incident gone wrong. That's the only thing I can think of that would get him there. I would think he has absolutely no desire to be in a muddy group of people listening to music he doesn't like."
Elisabeth Moss ("Peggy Olson")
"She would have maybe gotten lost on the way to visit her parents and ran out of gas on the side of the road. And that's the only way that she would end up at Woodstock."
Christina Hendricks ("Joan Harris")  
"Joan probably wouldn't go to Woodstock because it's very muddy and dirty. And she wouldn't have her hairspray there. She just wouldn't be there. She'd be in the city laughing at everyone."
Kiernan Sherpa ("Sally Draper")
"I don't know. Gosh, I don't even know. I'd have to know what bands were playing… I don't know that much about Woodstock to be honest, so I'm not exactly sure what she would do there. But she probably go with some friends. She's cool. She's daring. She would do that."
Vincent Kartheiser ("Pete Campbell")
(on what he would wear at Woodstock, he referenced a strange outfit Pete dons in the Season 7 premiere). "I'd say those tennis shorts and nothing else. I'm not saying he'd have them over his weiner." Nice.
Robert Morse ("Bertram Cooper")
"Well, actually I lived through it. I'm probably the only one. I'm 83. I was there wearing an American flag and a funny hat. And smoking? Whatever I could get my hands on." But what about his Bertram Cooper character? "A character my age? I don't know. I probably wouldn't even go… I'd stay at home watching sports."
(Michael Grebb is executive editor of CableFAX. You can follow him on Twitter at @michaelgrebb).