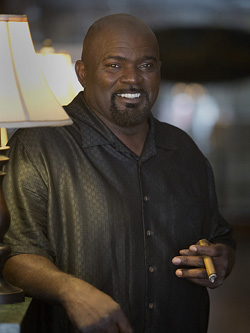 On Friday, "LT: The Life and Times," the second feature-length collaboration from Showtime Sports and CBS Sports makes its debut on the premium network (8pm). And given NFL legend Lawrence Taylor's tumultuous off-field life, which included drug abuse and run-ins with the law, there was a wealth of material to work with.
"The focus of our sports programming lineup and documentaries in part is very much the same as the network as a whole," said Showtime Sports, evp, gm Stephen Espinoza. "We tell compelling, complex, provocative stories and that goes whether in the context of a documentary or the context of a big boxing match."
This is the first documentary film since Espinoza took over at Showtime Sports, and as he said, Taylor's life definite hits all three components: compelling, complex and provocative. At Taylor puts it, even his "closet has closets."
During a teleconference with reporters Tues, Taylor said he had not yet seen the film. A special screening NYC later that evening would be his first viewing. "Of course, I'm nervous. I know the things I've gone through good and bad. I'm trusting it to be seen through someone else's eyes, and I don't know how that looks," he said. "Whether it turns out good or bad, I'm strong enough to handle it. It is what it is."
Director and co-producer Pete Radovich said he had assumed someone else had done a film with Taylor before and was surprised when he realized it hadn't been done. "It is probably going to be a shock to a lot of people the way we attack this story. The bottom line is that when people talk about Lawrence Taylor off the field and what he did off the field, it didn't affect the fans, it affected his teammates, his family and it affected him," said Radovich, and that is who the film features. Oh, and Jon Bon Jovi. The singer/actor was chosen to narrate the film, with the director, describing him as his "first, second and third" choice.