Long Road—Cable Still Helping with Sandy Recovery Efforts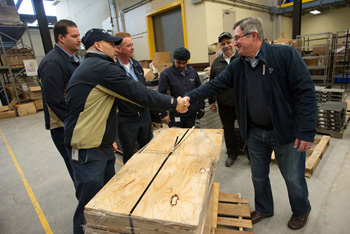 TWC Pres & CEO Glenn Britt visits a facility in Brooklyn
Our hearts go out to those still struggling to recover from Hurricane Sandy. We're not alone. Cable has not only been working to restore services and donated millions of dollars, but many employees are lending their hands to relief efforts. [See a slideshow of their efforts on cablefax.com]. And the need is still there. "By this past Sunday, we thought we could wind down these mobile power stations, but our sales reps said, 'No. People are showing up at 8 and 9am waiting for them,'" said Time Warner Cable NYC vp, comm Bobby Amirshahi. When Sandy hit, TWC turned its direct sales reps into ambassadors, who have stayed with the mobile trucks and helped where they can.
The stories are often personal. At Cablevision, 7 of its employees all belong to the same volunteer fire dept. Following Sandy, these men were committed to CVC restoration efforts and to manning the firehouse, one of the few buildings in town with constant power. That meant long hours on the job, and then more long hours at the firehouse, offering it as a place for the community to charge essential devices, take hot showers and grab a meal. Another Cablevision employee and her family launched a successful clothing drive for victims that literally brought in truckloads of donations. One CVC employee and his brother own a small catering company. They organized a barbecue benefit for the residents of Island Park earlier this month. With the help of nearly 100 volunteers, they fed hundreds of people for 4 hours. One girl baked 280 chocolate chip cookies for the event and packaged them individually with a special note of inspiration.
At TWC, about 40 employees volunteered this past weekend with NYC Service to help New Yorkers in need, spending hours shoveling sand off sidewalks and roads in the Rockaway Beach neighborhood of Queens. In addition to mobile power stations, the MSO has helped provide residents with items such as gloves and trash bags to help with cleanup. It hired about 7 of those fancy food trucks that lurk around Manhattan office buildings at lunchtime to provide free meals to people in parts of Queens and Staten Island. More than 160K meals have been donated. TWC CEO Glenn Britt, pres/COO Rob Marcus and East Region EVP Carol Hevey toured the MSO's Brooklyn facility this past week to thank employees for their efforts.
Some of the relief work comes on the job. After the NYC Dept of Health and NYC Office of Emergency Mgmt asked The Hebrew Home at Riverdale to open 1 of their unused buildings for 135 displaced residents at 9am on a Fri morning, Cablevision employees completed the difficult installation by Sat so that the residents who had to move in by noon Sun had a place that was safe and comfortable.
On the programmer side of the business, NBCU pulled together a relief concert in days that generated nearly $23mln in donations for the American Red Cross. MTV aired a "Restore the Shore" telethon with the "Jersey Shore" cast that raised more than $1mln. Madison Square Garden, The Weinstein Co and Clear Channel, the same team behind the historic "Concert of New York City," are launching 12-12-12, The Concert for Sandy Relief to benefit The Robin Hood Relief Fund. Confirmed performers include Kanye West, The Who, Bruce Springsteen and Alicia Keys.
As recovery efforts continue, there are questions that will have to be answered. Power restoration has taken a long time in some areas. Cell phone and VoIP service was sometimes problematic. A lawsuit was filed against Cablevision because it didn't offer blanket rebates to those who lost service (the MSO, which is offering credits to customers who report outages, said the suit is was without merit).
On Fri, FCC chmn Julius Genachowski announced plans to convene a series of field hearings in the coming months to examine the challenges to the nation's communications networks in the wake of Sandy. The first of those will happen early next year. They'll take place throughout the country in areas that have experience major natural disasters, starting in NY. "This unprecedented storm has revealed new challenges that will require a national dialogue around ideas and actions to ensure the resilience of communications networks," the chmn said. The hearings plan to delve into how providers took advantage of advance notice to prepare, how providers can best work together to share resources such as WiFi networks during disasters ( Comcast and other MVPDs opened up their WiFi networks to all) and why some services, once restored, performed at levels inferior to those customarily enjoyed. For some photos from cable's recovery efforts, see our slideshow at CableFAX.com.
ED NOTE: This article originally appeared in CableFAX Daily. Go here to subscribe.