Lil Bub Named Spokescat for Animal Planet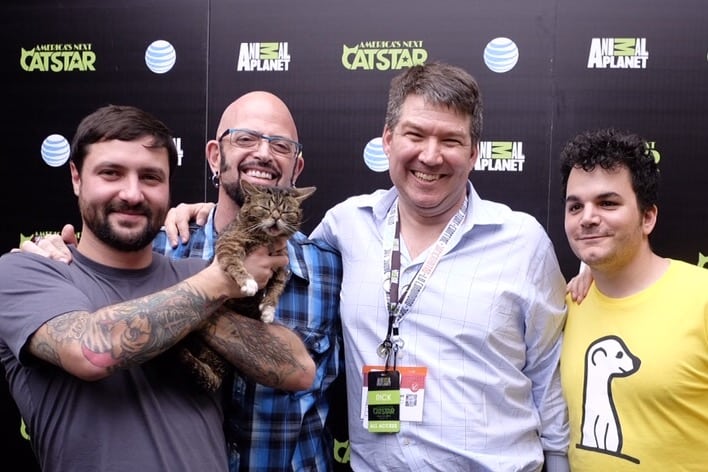 Amidst all the noise and clutter of SXSW, Animal Planet looked to cut through it all with a cat.
Internet sensation and beloved cat from space Lil Bub is now the official spokescat for Animal Planet, the network announced at an event at SXSW Sunday night. And the publicity team used live video streaming app Meerkat, one of the most buzzworthy apps at the conference, to announce it.
For the uninitiated, Meerkat lets users broadcast live video to their Twitter followers without having to build a whole new following from scratch. Right at the start of SXSW, Twitter gave co-founder Ben Rubin just two hours' warning that it was going to limit the app's use of its social graph, which threw a wrench in his plans. "It has a little impact of how new users build their community," Rubin told us. "But the main reason to download the app is to tweet live video to your followers and have the live stream travel at the speed of tweets. It's still the same, and it's unharmed," he said. Meerkat became a whole lot more popular, though, thanks to the perceived implication that Twitter felt threatened.
Animal Planet wanted to jump on that buzz. "We've always wanted to experiment with new technologies," said network gm Rick Holzman. "We take a lot of risks. We did HD TV before it was popular. We're doing UHD stuff for some of our pet shows," he said. "And technology, it's all about trying stuff out and figuring out what the right platform is to do stuff with. If everyone at SXSW is talking about Meerkat and Meerkat feels like it's a good opportunity for them, we figured what did we have to lose."
The team announced the five finalists for "America's Next Cat Star" at the event as well, so revealing their spokescat at the time made sense. Animal Planet has worked with Lil Bub before, with a one-off TV special and other events, but now they have a formal relationship. "We knew that SXSW was such a hipster event—cool, underground, low key… It was a great chance to reach out to the people who know Bub, because this is Bub's crowd. This is totally a Bub town," Holzman said.
It's the first corporate sponsorship for Lil Bub, said her owner Mike Bridavsky, a.k.a. "her dude." But he's turned down many offers from brands—everything from coconut water to cat food. "[Animal Planet] is very open to what we do…and most important is their initiative to really help spread awareness about adoption, about taking care of pets in the right way. And obviously it's a huge part of what Bub and I do," he said. Bridavsky does all the photography and writing surrounding Bub, so keeping the content pure is important to him. "It's about my cat, so signing away those rights isn't something I'd ever want to do, and Animal Planet respects that."
So what's Bub going to do? She'll have ambassadorial responsibilities and will be traveling to shelter events with the network to raise awareness of special needs animals. "Those are often the hardest to adopt out of shelters," Holzman said. "She's a great magnet for a good cause." You'll also see more of her on TV. Bub and her dude "are very serious about how they protect their brand, and we love that," he added. "That sort of activism and advocacy is a really important tenet for a brand like ours."