Kegs, Eggs and the Cutting-Edge: A SXSW Preview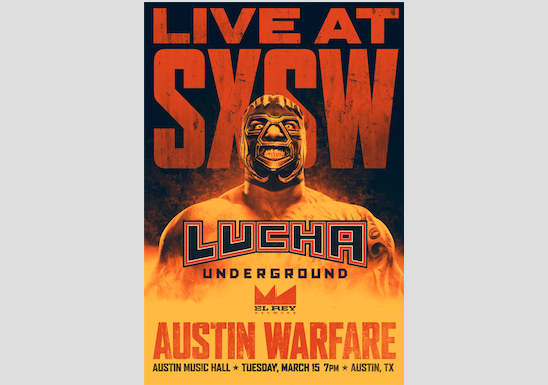 With South by Southwest kicking off this Friday in Austin, cable brands are focusing on getting in front of the high-energy, influential crowd (festival-goers include even the one and only POTUS and his wife). This year it's attracted so many programmers that the pressure's on to present and produce content in an original and fun way.
For instance, El Rey Network is bringing its wrestling series "Lucha Underground" to the festival with a live event and panel (March 15). The show will include the signatures of one of Mexico's most popular sports, Lucha Libra, including high-flying aerials, over-the-top characters and dramatic moves. Cecilia Conti, El Rey's VP of Marketing, said the network's founder Robert Rodriquez has had a decades-long relationship with SXSW. And with the festival taking place in their own backyard of Austin, debuting the event live there is only natural. Attendees can look forward to the excitement of Lucha Underground's daring wrestling stunts, but also the energy produced by fans. The show has some die-hard fans coming (some even with Lucha Libre tattoos) who know how to stir up a crowd.
Comedy Central is also upping the ante this year with its own SXSW first—the net's "@midnight with Chris Hardwick" will broadcast live exclusively on Periscope (March 11). Brand Marketing VP Shawn Silverman says both the festival's music and interactive audiences overlap heavily with Comedy Central's core audience. "They're on the cutting edge of technology, love to have a good time and love to laugh," Silverman said. The net has also dipped its toes into the music part of the event, kicking off their third annual "Kegs and Eggs," which is exactly what it sounds like: free beer and eggs. The event (March 18) habitually has crowds lining up around the block and has transitioned from a one- to two-day beer and egg party due to popular demand.
SXSW's influencers even attract cable operators such as Comcast to the action. The MSO will be sponsoring a lounge for social media influencers and consumers to gather in a press lounge of sorts, with the goal of getting customers together in one room.
The festival kicks off March 11 and runs until March 20, and nets look forward to high levels of both energy and fun. "South by Southwest is growing every year and has such a good energy, and everyone is down there to have a good time," Silverman said.