Just Released! The Cablefax 100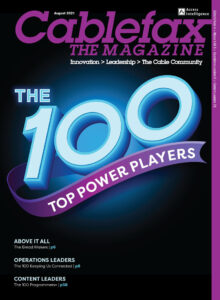 It's the Cablefax 100 like you've never seen it before. Our annual must-read magazine highlighting the industry's most powerful executives is bigger, splashier and mightier than ever, with two 100 Power Player lists.
Our Operations Leaders list begins on page 7 and includes traditional operators, vMVPDs, vendor partners and association leaders who are driving the industry forward during a time of unprecedented change.
Those propelling the programming marketplace to new heights can be found on our list of Content Leaders beginning on page 58. We've included the best of the best across streaming, linear, advertising and more.
You can read through the digital version for the print magazine, getting the download on each of our honorees as well as their answers to the famous Cablefax 100 Q&A. Or visit www.cablefax100.com — or as we like to call it, "Cablefax 100+" — for shareable, individual profiles and even more Q&A content.
Congratulations to the 2021 Cablefax 100!