John Walsh Teams up with Cox for Internet Safety Tweet-Up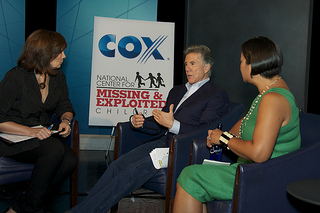 Former CNN reporter Jeanne Meserve, "America's Most Wanted"
host John Walsh & Internet safety blogger Leticia Barr.
For the past eight years, John Walsh, host of "America's Most Wanted," has teamed up with Cox to promote Internet safety among kids. It's just one more effort for a man who is on the frontlines of capturing bad guys after living through every parent's worst nightmare. Thurs night, Walsh participated in a #CoxTakesCharge live interview and tweet-up at the National Press Club in D.C. that generated more than 2200 tweets as mommy bloggers and others quizzed him on ways to police children's Internet usage.
Nowadays, Walsh's connection to cable is even stronger. After Fox canceled AMW last June, Lifetime stepped in and ordered new episodes of the long-running series (24 years and counting). The fit has been great, with the show helping to bring Lifetime some more male viewers, he said. "I think people there are tuning in to specifically watch the show," he said, adding that the broadcast audience tended to be more of a casual surfing tune-in vs appointment viewing. Anonymous tips from shows are up, and he's talking with Cox and Lifetime about partnering for child-focused PSAs.
Walsh is also talking to Lifetime about a pilot, dubbed "John Walsh Investigates." The hour-long series would allow him to spend more time on a particular case, in sort of a "48 Hours" news magazine style. "I often hear how we don't spend enough time on the captures," he said, referring to AMW's fast-paced effort to publicize the search for many fugitives. This would be a venue for really tackling a case from start to finish. Walsh became an anti-crime advocate following the murder of his son Adam in '81.
As for Cox's Take Charge initiative, Walsh, Cox and the National Center for Missing & Exploited Children plan to continue their partnership. Walsh praised the MSO multiple times during the live interview for being a "responsible" ISP and warned that companies who don't protect children could find themselves facing lawsuits.
His mantra during Cox's live Webcast was: "Parent up… You're not supposed to be your child's best friend." That means knowing your child's passwords, using parental controls—not just on computers, but on mobile devices and game consoles, doling out punishments, etc. On the other hand, he warned that children are sometimes afraid to tell parents about something that inappropriate that happened online because of a fear they will get in trouble and have their iPad or laptop taken away.
Of kids who have received something online that made them feel uncomfortable, 90% are afraid to tell their parents, he said, citing a survey Cox has commissioned in partnership with the Natl Center for Missing & Exploited children. Professional blogger Leticia Barr, who was on the panel with Walsh, said the key is to establish that trusting relationship with kids early on and hope they remember what they're taught. Because as Walsh said, you can't monitor everything all the time. "I think we have to realize the harsh reality is that [children] will always be [tech] savvier than we are," he said.