Investigation Discovery Film Focuses on Domestic Violence Awareness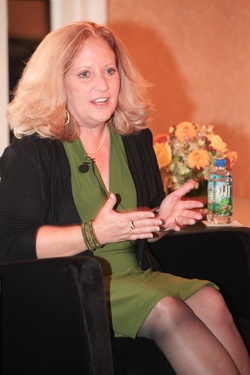 Brenda Clubine tells her story at the "Sin by Silence" debut in Washington, D.C.
Brenda Clubine celebrated her 50th birthday with more joy than most people ever have. Brenda also was celebrating her third year of freedom from prison after a 26-year sentence. In what she said was an act of self defense, she hit her husband on the head with a bottle of wine and was sentenced to 16 years to life behind bars for his murder. Brenda spent part of her birthday in D.C., sharing her emotional story during an Investigation Discovery event for "Sin by Silence," a documentary film scheduled for its world television premiere Monday. The film documents the stories of incarcerated females convicted for defending themselves against domestic violence.
Touched by Brenda and many other women's stories, Investigation Discovery partnered with the National Network to End Domestic Violence (NNEDV) in a campaign to change laws helping victims of domestic violence and to shed light onto increasing awareness of the complexities of many domestic violence situations. With October being domestic violence awareness month, Investigation Discovery hopes to maintain its relationship with the NNEDV and other human rights organizations in order to continue to spread the word about domestic violence. "These organizations are important to motivating media to bring issues to light such as domestic violence," said Henry Schleiff, president of Investigation Discovery. "We look forward to working with them more in the future."
Television networks can have an important role in promoting public affairs. "Sin by Silence" director Olivia Klaus and Clubine believe TV programs on major social issues are the best and fastest way to spread awareness nationwide. "Putting this story into 80 million homes is a step to preventing domestic violence," said Klaus. "The film was created to be a tool across the country."
It was obvious how much of a struggle Brenda Clubine's life has been. As she continued to field questions about her story, the crowd began an emotional singing of happy birthday to her. She was extremely moved. Not only was she celebrating her 50th, but she was playing a large role in creating social change.
Check out blogger Seth Arenstein's take on the film, here. "Sin by Silence" debuts on Investigation Discovery Monday, Oct. 17 at 8pm.