INTX's First-Time Exhibitors from A-Z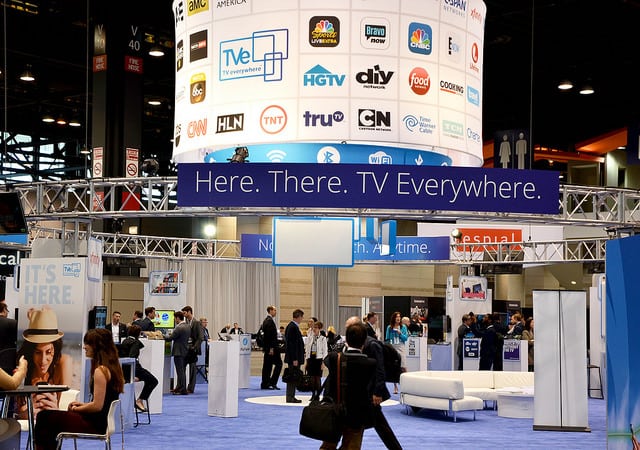 NCTA's annual trade show will convene in Boston next month, with many of the usual suspects there—Comcast, Discovery Communications, Arris. But there will be some newbies on the INTX show floor too, with more than two dozen first-time exhibitors signed up thus far, according to the cable trade association. Here's a look at who they are.
Alarm.com: As the industry ramps up home automation offerings, it attracts folks like Alarm.com. The company connects a broad array of devices and is supported by a nationwide network of authorized security and smart home providers. In January, Alarm.com launched an app for live video monitoring of its HD cameras via Apple TV. Other integrated features include smart home control through Amazon Echo.
Alianza: Alianza offers a cloud voice platform for cable, mobile, telco and broadband providers. It had a strong 2015, picking up 12 new service provider customers (including 9 cable broadband companies). Cable operators choosing Alianza include Blue Ridge Communications, Shrewsbury Electric and WEHCO Video. Last year, Alianza hooked up with ZCorum to give operators an easy-to-manage, next-gen VoIP solution.
Alphonso: Alphonso is an ad tech company that helps advertisers use device data to target ads across multiple devices. Alphonso works with a variety of platforms—from TVE apps to set-tops to smart TVs. Alphonso bills itself as delivering one-on-one TV audience on mobile and web, saying that 30 of the Fortune 100 brands use its tech to run TV targeted digital campaigns.
ASSIA: ASSIA's Cloudcheck software solution lets ISPs run a diagnosis to see what's slowing down internet connections and even includes a WiFi speed scan. Other products include DSL Expresse, which lets service providers optimize each line in their DSL network for faster speeds. Prior to founding ASSIA in 2003, CEO John Cioffi served as founder, CTO and vp of engineering at Amati before its acquisition by Texas Instruments.
Beamr: Beamr is an encoding and optimization provider for broadcast, MSO and OTT industries. It is fresh off its acquisition of encoding player Vanguard Video, whose client base includes Netflix. The acquisition allows Beamr to offer a fully array of media compression and optimization solutions. Integrating Vanguard Video's advanced encoder solutions allows Beamr to offer high quality video at extremely low bit rates.
Cartesian: Cartesian is a provider of consulting services and managed solutions whose client list includes service providers, digital media producers and industry associations, including SCTE. It has offices in Boston, Kansas City, London, New York, Paris, Philadelphia and Washington, DC. Last year, it acquired Farncombe Technology, a consulting and advisory services provider to the digital TV sector with a 100+ global client roster.
Elevated Procurement Solutions: This company is all about procurement strategy. Principal and founder Sandra Williams worked in procurement at Charter for four years and spent another two year at prepaid wireless carrier Cricket.
Entertainment ID Registry: EIDR is an industry non-profit that offers a unique identifier system for movie and TV assets. Its membership is a who's who of entertainment companies and its board is made up of execs from CableLabs, Comcast, Netflix, Rovi and Google.
Excelacom: Excelacom is a global consulting, services and technology solutions provider, whose work includes digital service transformations, business process improvements, IoT and monetizing big data through predictive analystics.
Globtel Holding: Globtel's AIR is a wireless access network that combines global standards so that VoIP, broadband connections and digital TV can be offered in an ideal manner. It can be used by cable operators, mobile operators and fixed network operators to quickly extend their footprint as each base station can cover an area with a radius of up to about 31 miles.
Guavus: Guavus just announced that it has joined the RDK Community as a licensee. The data analytics company has a suite of analytic applications that draw data from RDK set-tops, gateways and other devices with the operator's own network data and customer interaction data.
INSIGHT – TV Entertainment Reality Network International: Here's a UHD channel aimed at international audiences. Content includes documentaries, reality series and "infotainment." You can get a glimpse of programming at Insight's website, but the US is currently not authorized to view it.
IRISH TV: Billed as Ireland's first international channel (available on SKY and on FREESAT), IRISH TV plans to launch in the US this year on iOS and Android devices, Roku, Amazon Fire TV, Google Chromecast, Apple TV and Smart TVs. In March, the net featured a 4-hour live broadcast of NYC's St Patrick's Day parade.
Matrix Solutions: With a customer base that includes Tribune and Comcast, Matrix Solutions offers a web-based, media-specific sale platform for managing sales organizations. It has a cloud-based offering intended to allow clients to plug and play data within 8 weeks of deployment.
NatureVision TV (ZenVision TV): These folks promise the most relaxing, stress-free programs on TV and the Internet. NatureVision doesn't talk over nature programming, just crystal clear HD pictures. It's racked up more than 100,000 subs on Roku and is on pace to generate more than 100,000 program views on Amazon Prime.
Niche Media Global: Here's a digital media services company that provides digital streaming tech solutions, connections with distribution partners and marketing of products in new territories. Niche Media Global specializes in finding targeted content and delivering it to global audiences through OTT.
Nuance Communications: Speech recognition is the name of the game at Nuance. Rovi has worked with Nuance on voice-activated discovery. Last fall the two announced Nuance's Dragon TV voice recognition, text-to-speech and voice biometrics would be integrated with Rovi's cloud-based Conversation Services. Nuance has a broad portfolio in the voice technology space.
PerceptionTV: Headquartered in London, PerceptionTV provides multiscreen IPTV solutions to operators. Its Perception platform is a fully integrated solution with embedded CDN middleware and edge servers. In August, the company added regionalization to the multiscreen IPTV/OTT platform allowing content providers, TV start-ups and aggregators to personalize the platform by brand image, viewer location, and regional content.
REVOLT Media & TV: You know these guys. This is P Diddy's 24/7 channel focused on music and all thing youth, with carriage on Comcast, Time Warner Cable and others. In December, the channel inked a distribution deal with DirecTV, six months after it became available to AT&T U-verse subs.
Strategy & Technology LLC: Better known as S&T, the company is an innovator in the interactive TV space. Its TSBroadcaster product generates MPEG-2 compliant Transport Streams containing SCTE signaling and DSM-CC data and object carousels providing comprehensive support for OCAP/Tru2way, ETV-EBIF and Common Download standards.
USA Studios: A post production and distribution facility, USA Studios is now delivering in 4K and UHD. Its client list includes HBO, Syfy and Smithsonian Channel. Services include subtitling and captioning, editing and digital asset management.
Verizon Digital Media Services: Yes, that Verizon. See, it really isn't the Cable Show any more. Verizon Digital Media Services is the company's collection of video and advertising businesses, including the mobile video service go90.
Volicon: Speaking of Verizon Digital Media Services, it recently signed a deal to acquire Volicon, a provider of video capture, monitoring and archiving solutions. Volicon's technology, combined with Verizon Digital Media Services' Video Lifecycle Solution, will provide customers with a seamless option to take existing broadcast feeds and channels directly to OTT cloud-­based delivery models. As of now, they are both listed in separate booths at INTX.
Wetek: This start-up hardware maker says it's dedicated to creating innovative multimedia products that provide excellent solutions for IPTV, streaming as well as local media playback. Products include the WeTek Core, an Android box with 4K support and the Android media center WeTek Play
WineSOFT: WineSOFT has the STON Edge Server, which covers everything from CDN to gaming and storage caching. The software house is headquartered in Seoul Korea.
Zixi: In April, video delivery systems provider Zixi debuted ZixiFY, a cloud-based content delivery platform designed to deliver live broadcast quality video from Zixi-enabled origination points, including cameras or phones, to any device leveraging Zixi. Hundreds of media companies use Zixi's end-to-end software platform.