Industry Assists in Tennessee Wildfire Relief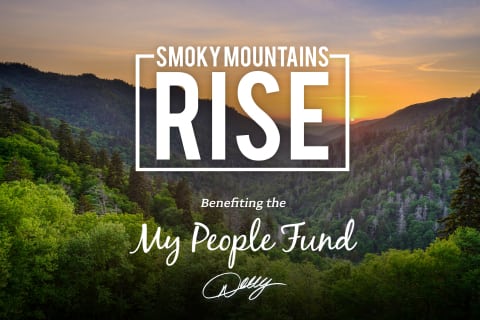 Viewers will have plenty of opportunities to watch tonight's "Smoky Mountains Rise: A Benefit for My People Fund," a fundraiser for those impacted by the wildfires in Gatlinburg and Sevier County. Organizer and Sevier County native Dolly Parton will carry a live broadcast of the event on her Facebook page, and it will also be televised by Great American Country, RFD-TV, AXS TV and The Heartland Network. DISH has said it will make sure all of its customers have access to watch the special, no matter what programming package they take.
The concert gets underway at 8pm ET tonight, and will feature performances by Parton, Reba McEntire, Cyndi Lauper, Kenny Rogers and others. The three-hour telethon seeks to raise money for Parton's My People Fund. The fund was created to provide $1000 per month for six months to families who lost their homes in the fires. Nearly 1700 structures have been affected and 14 people have died. Various celebs, including Paula Deen, "Moonshiners'" Mark & Digger" and Larry Gatlin, are set to help answer the phones.
"This telethon will be a great opportunity to raise more funds to help support the people of Tennessee. RFD-TV viewers and Rural Radio [Sirius XM] listeners are some of the most compassionate people you'll meet, and I have no doubt they will step up to help the affected families," said Patrick Gottsch, president of Rural Media Group, RFD-TV's parent.
Other outlets that will stream the concert include USAToday.com, Tennessean.com and Knoxnews.com. Multiple radio chains, including iHeart Media and Cumulus Media's NASH Nights Live, also will simulcast the benefit.
Several companies have stepped up in other ways to help families whose homes are uninhabitable or completely destroyed by the fires. Tennessee-based Scripps Networks Interactive has pledged $100,000 and is matching employee donations up to $2500. DISH is delivering free dishNET satellite broadband to aid in relief efforts, and working with the Information Technology Disaster Resource Center to deliver connectivity at two key volunteer organization hubs. Verizon announced a $50,000 grant to support relief efforts through the Dollywood Foundation, while AT&T has said it will donate $20,000 to The Gatlinburg Chamber of Commerce Fire Relief Fund and Friends of the Smokies. AT&T also deployed Satellite Cell on Light Trucks, portable charging stations and emergency communications equipment to help in the area.