'Idiotest's' Ben Gleib on GSN & Comedy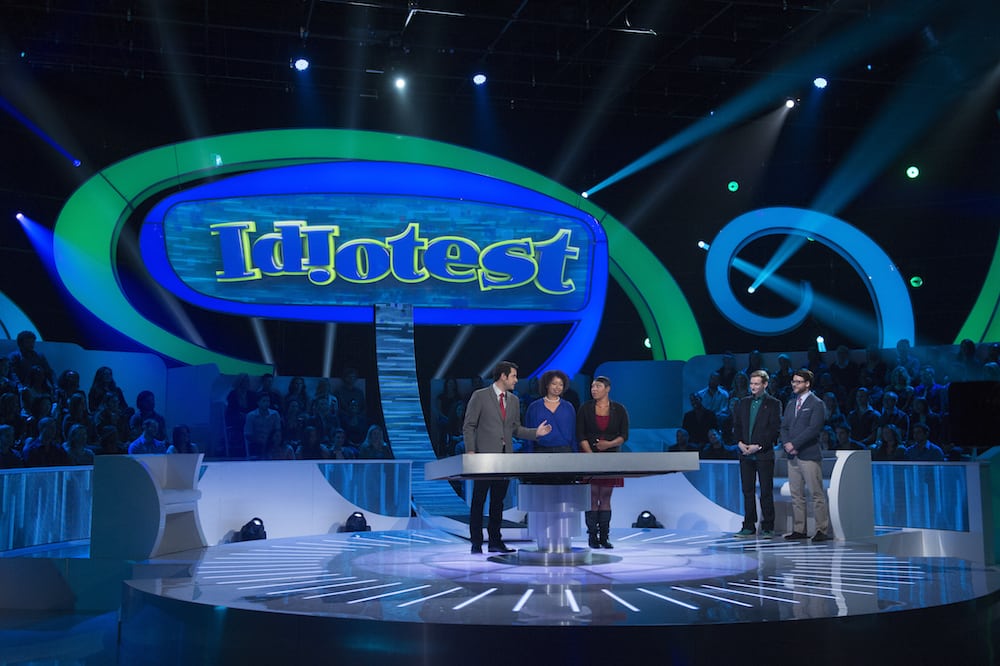 Ben Gleib is the host of GSN's brain teaser game show "Idiotest," whose third season premieres tonight, Tuesday, April 12 at 10/9c. But he's not just the presenter. Over the past two seasons he's increased his involvement behind-the-scenes and now sports the title of executive producer. He has GSN to thank, for allowing him to be as creative as he wants to be. The result: themed episodes surrounding topics such as politics, the '70s—and even an all-nude episode. Here's Ben on being a comedian, his contribution to the show and look at what Season 3 has in store.
I know that you're a comedian as well. Did you ever think you'd be a game show host?
I never thought I'd be a game show host. I always thought I'd be a talk show host. Then GSN started asking me to do some things on the air and they told me that they wanted to find a show for me—and I thought it was just normal, Hollywood B.S. talk, and they in fact did have a show for me. Somehow, very luckily, it ended up being a perfect match for my comedy and what I like to do—make a smart show, and also a comedy show. I fell in love with it. It's a title I'm really happy to have.
So did they build the show around you?
I don't think so. The guys who created the format of Idiotest were developing it for four years and they couldn't make it work, and then I guess GSN thought of putting me in it as the missing element it needed to gel. They put it together and it worked great. They asked me to host a run-through of the show in a conference room at GSN and I had actually forgot I said yes, and scheduled a rare vacation to New York. And then remembered about it and wasn't sure if I should come back in the middle of my trip for it. I asked my family and my friends' advice. My mom said, "Don't come back. You always come back for auditions and things like this and it never leads to anything." My dad and my friend Iliza Shlesinger, the great comedian, said "I would come back if I were you." I called them to see if it was still available and they had offered it to somebody else to do a run-through but he hadn't said yes yet. So that said, it's yours. I flew back to LA literally for 12 hours, in the middle of my vacation, and hosted this run-through that was a huge success in the room. And GSN picked up 40 episodes from the conference room—they didn't even make a pilot.
You did some improv at a Cablefax event once and led us in a game of bingo. I have to say, you were really good at giving us crap for not playing correctly. We basically failed the Idiotest. Would you say improv on crowds is one of your best strengths?
It is indeed. I've always been an improv guy for whatever reason. I am pretty good of thinking of ways to make people laugh in the moment and ways to make fun of people in the moment. Hopefully I do it in a way that doesn't often offend people—that walks up to a line and doesn't cross it. I think that's the line you need on a game show as well…Even in my standup it's half pre-written material and half interacting with the crowd. That's exactly the way I do it on Idiotest. I don't just make fun of the way people look, or how they're dressed. I make fun of people's logic—and point out a place where there's flaws. That's what I always did on stage. So the perfect match was to go on a show where we get to do brain puzzles. It's literally about finding holes in the way their brain worked and the way their logic failed them. It was a very serendipitous match.
What is your role in the making and writing of the show?
I'm very involved in pretty much every aspect of the show. Season 1 I was hired as a host, but I've always been a very hands-on person. It's hard for me to play one role; I'm very passionate about the things I do. So it was sort of frustrating for me—I'd take all the tests before every episode and I didn't always love every aspect of them. There was a time where I found another possible answer, and why not help out if I can. Especially if I have to go out there and make jokes about people's logic. I don't want to do that if I don't fully believe in every aspect of the test and know the reasoning backwards and forwards as to why each answer was what it was.
So in Season 2, GSN made me a producer on the show and I started helping write all the tests. I'd take them far, far in advance and try to find holes in them, change the art, make them slightly stronger… and that went well, so for Season 3 I'm an executive producer. I create a lot of the tests from scratch. We have a brilliant group of writers and artists that create the tests, but I do create a lot of them myself. Sometimes we'll debate an individual test for 30-40 minutes until we come to an agreement on what the logic needs to be to be perfect. Because I really want to be able to make fun of people with full confidence.
So how has the show evolved over the couple seasons?
GSN is great to work with because the network is so supportive of me being able to be completely creative on set, and all of our staff can be out-of-the-box in the way they create the show. They're very hands-on with the show, making sure everything is perfect and they pass their standards as well, but they let me, creatively and comically, go crazy. I don't think I've gotten one note about something on set they weren't cool with. And it's led to one of the more out-of-the-box, creative game shows, perhaps in TV history. We do little sketches, funny, behind-the-scenes looks, we do theme episodes, we do rivalries.
What's in store this season?
This coming season, while still being a comedy show, and intellectual game show, we also have themes—like an all-nude episode. Where the contestants—and I as well am naked. We have a scary episode, where we built in scares to the show. We have a rockers versus country music artists. We have burlesque dancers versus ballet dancers. Star Trek fans versus Star Wars fans. And we even did an episode that takes place in the '70s, where I play a 1970s game show host with mustache, chops and skinny microphone. There's a different intro, different look to the set—different everything. It's just really fun to be able to change it up so often. And we also try to improve it format-wise and make it a little better. We're like the Army, but much stupider.