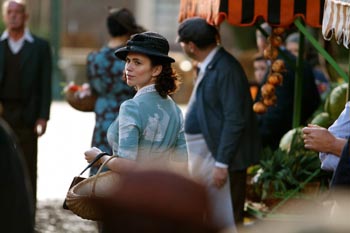 Sundance Channel's scripted 2-part mini-series "Restless"
Following the success of Sundance Channel's mini-series "Carlos" and "Appropriate Adult," the net is about to roll out three more original scripted productions. The first is the British spy thriller "Restless," premiering in two installments Dec 7 and Dec 14. CableFAX Community Editor Kaylee Hultgren spoke with the production's British-born executive producer Hilary Bevan Jones, producer of "State of Play" and the Emmy Award-winning HBO film, "The Girl in the Café," about adapting a novel for the screen, the global state of TV production and being the first female chairman of BAFTA in its 60-year history.
What made you want to work on this particular project?
I read the book. As soon as I read it I was absolutely hooked. I contacted [the writer] William Boyd, [who wrote] the adaptation.
Have you ever adapted anything from a book before?
I worked on "Far From the Madding Crowd," an adaption of that some years back and an adaption of Robert Louis Stevenson's "The Ebb-Tide," which Robbie Coltrane starred in. So I've done a few before.
What are some of the challenges of adapting a novel to a TV production?
Luckily for "Restless," we've got 2 times 90 minutes…so it's better than just a single movie. With a single 90 minutes you have to make big sacrifices that normally, in cutting any novel down to television or film format, you're going to have to make quite brutal cuts. So I think that's a big challenge. And then of course the decision is, what do you lose, what stays and what goes? But in our case, William Boyd, the author, did the adaptation himself… So that was brilliant. He's absolutely open to discuss where we might think we might make it better, taking it to a visual medium.
How much control does he have during the production? Does he change things on the spot?
He's fantastic. He's an executive producer on "Restless" as well as adapting it…So all the way through the process, from first working together on the adaptation, on the script adaptation of the screenplay, right through the casting progress when we chose our director. Every step of the way, he's been at my side.
For this project, the book hooked you. Generally, how do you decide what scripts to work on?
In one way or another the project has to move me, whether it's an emotional reaction—in this instance with "Restless," at the very beginning there's a piece where the daughter discovers that her mother isn't who she thought she was. She isn't Sally Gilmartin, she's a Russian émigré called Eva Delectorskaya. That to me, the whole thought of suddenly realizing your mother wasn't whom you thought, your whole life would evaporate. That was, to me, the stirring moment there.
Why have you chosen specifically to work with Sundance Channel?
I really liked the way that Christian Vesper [executive producer] from Sundance Channel, who read the script, absolutely understood what we were hoping to [accomplish] for the piece. I liked his artistic input and they felt like the right partner for this project.
What do you think will make this appealing to American audiences?
Well there is a piece of American history and there are sequences that are set in America in the early 1940s, based on the fact that there was a massive covert operation by the British to try to entice America into the 2nd World War and this is that story. It was all filmed in Cape Town, but the film goes to Washington, it goes to New Mexico, it goes to Canada, as well as lots of European countries. And also I think it's a universal story, of a young woman discovering her mother isn't who she thought. Hopefully it will appeal internationally.
Do you feel that international stories, particularly with British characters, are becoming more popular in the US? Is there more of a space for it now?
I think that generally the television world is becoming more international. There's a history of America and English programs crossing and fertilizing each other, but looking at fictions like "The Killing" and Europeans seems to be coming in tune. Yes that is something that's [happening] more and more.
You've produced in the US as well. What are the differences from producing in the UK?
I think the differences, from one country to another, are often cultural differences. In the US there are different union rules [compared] to what there are in the UK. In South Africa where we shot "Restless" you have a much, much larger crew. But their system worked very well.
You've done comedy as well as drama. What do you prefer?
I enjoy drama and comedy. I always try to get some sort of element of comedy into every thing that I do. So for example for the mini series I produced, "State of Play," I like to think it has humor in it, while it was a riveting drama. And "The Girl in the Café," the HBO film I did, was a campaigning film about poverty that still has moments of humor in it. So I think whatever the drama is, it's something I give thought to. I do like to have an element of humor in everything I do.
Is there a particular topic you simply must cover in a TV series in the future?
I think the film that I want to do more than anything is the story about my grandfather [E.H. Jones], based on my grandfather's book called "The Road to Endor," which is what I've named my company [Endor Productions] after. I'm working on the development with Neil Gaiman and Penn Jillette. It's the story of how he escaped from a prisoner of war camp in Turkey by pretending he was in touch with a spirit… and during the process he had to feign madness to be believed and finally they went to the mental hospital in Constantinople and they were eventually sent home. But the time they got home my grandfather weighed 4 and ½ stone. And it's an amazing film. And that's the film that's my goal to make, sometime in my life.
You were Chairman of the British Academy of Film and Television Arts, and were the first woman in its 60 year-old history to hold this position. What were your goals with the organization?
My goal as Chairman was to make sure that people around the world realized that BAFTA is actually a charity… Its goal is to inspire experts in the art forms of the moving image. I was a teacher at the beginning of my career and my goal at BAFTA was to expand it's learning…To that end we now have on our website a fantastic resource for the next generation of filmmakers called BAFTA Guru. We've just launched a scholarship scheme—we've got 6 scholars started. They never would have gotten to film school without this help. We have our members going to universities around the UK… That's my biggest goal with BAFTA, to help the next generation of filmmakers learn from the cream of the industry.