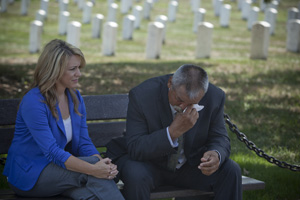 GMC's "I Forgive You" portrays stories of forgiveness
[Editor's Note: This review contains several spoilers.]
Forgiveness is a major concept in many of the world's faiths, from forgiving each other to divine forgiveness of humans. Yet forgiveness between people remains one of the more difficult concepts to accept, especially when we feel someone has done us wrong. A 1988 Gallup poll found 94% of Americans felt it was important to forgive, but 85% said they needed help to do so.
Into this void comes "
I Forgive You
," a pilot for an original series premiering this week and Nov 29 on GMC. Its main strength, judged by its pilot episode, is the variety of forgiveness it displays. The I Forgive pilot also is a welcome alternative to the kind of reality programming that occupies most channels' slates. It's positive and uplifting. There are no wild parties, unusual families or exploitation in this pilot. Instead we hear from relatively normal people who've been able to forgive. On the other hand, it's far from dull. The stories it relates contain plenty of drama, and are told effectively in this production by Emmy-winning producer Arnold Shapiro, known for "Rescue 911."
The I Forgive pilot begins by reuniting a woman, Lynda Frederick, who was bullied in school as a child, with two of her former classmates. The classmates, now in their early 40s, did not participate in the bullying, but did nothing to stop it either. It's an emotional and effective segment, with Frederick eventually embracing and forgiving her former classmates. The storytelling is good, although a number of questions about Frederick's tale go unanswered.
An even better segment focuses on Juan Romero, the 17-year-old busboy who cradled the prone Senator Robert F. Kennedy in the
iconic photo
as the candidate was downed by a bullet in the kitchen of the Ambassador Hotel in L.A. Romero, now 62, has never forgiven himself for the thought that he might have put his idol, RFK, in the line of fire that day in 1968 by reaching out to shake his hand. While some might say Romero could not be blamed for RFK's death, the former busboy says, "I got a few letters" from people accusing the then-teen of assisting in the killing, Romero says during the show. GMC takes Romero from California to Arlington Cemetery in Northern Virginia to visit RFK's simple grave. The trip brings him closure. Sobbing afterward, Romero says a weight has been lifted from his soul. Not only that, but something spoke to him while he was praying at the grave, he tells us.
Where do you go from there? GMC has an answer. It profiles Mary Johnson, who tells of her only son being gunned down in a wave of gang violence a number of years ago. She's organized a rally for her group, which reaches out to families of murder victims, as well as to relatives of those who've committed murder. Her co-organizer, Oshea Israel, a young man on stage with her, is her son's murderer. After years of hating Oshea, the woman, through intensive prayer, she says, found a way to forgive him and eventually to embrace him.
As you might expect with GMC, many of the stories reference a divine spirit, or Jesus specifically. Yet they are told without too much religion in them, which makes them more accessible to the general public.
Not everyone is forgiven, though. The Millers, a working-class couple in Wisconsin, lost much of its savings to son Jeffrey, who operated a Ponzi scheme. Now out of prison after serving seven years, Jeffrey has yet to apologize to his parents. His father, Jerry Miller, 65, works ten-hour days painting houses since he lost his retirement savings to Jeffrey's scheme. In addition, Jeffrey's brother and sister-in-law lost $30K in the Ponzi scheme. Eventually Jeffrey's parents and brother forgive him. His sister in law, with a calico smile and dark glasses covering her eyes, does not.
[I Forgive You runs Wed Nov 21, 9p and 10p ET and Thurs Nov 29, 11p ET. There is no date set for the series to premiere.]