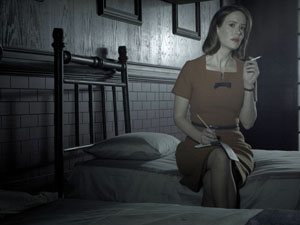 Sarah Paulson as Lana Winters in "American Horror
Story: Asylum" Photo cred: Frank Ockenfels/FX
[Spoiler Alert: This piece includes plot details of FX's "American Horror Story: Asylum" and MTV's "Catfish: The TV Show."]
It is said one key theme running through many of
Alfred Hitchcock's films
is that people, and sometimes things, are not what they appear to be.
This idea also is present in season II of "
American Horror Story: Asylum,
" on FX, Wednesdays at 10pm. Several characters, particularly those on the staff of the Briarcliff Mental Institute, this week will reveal they're not whom they seem to be. And in at least one instance, evidence is mounting that the asylum's chief surgeon, Dr. Arthur Arden, played by James Cromwell, is a former concentration camp officer, Dr Hans Gruper. While the asylum's residents are a motley lot, the staff is much worse. It seems clear that the series' creators are having fun with the well-worn phrase, 'the inmates are running the asylum.' In the case of American Horror Story this season, things might be better if indeed the inmates were in charge.
The concept that people are not who they appear to be is found throughout drama, including Shakespeare and classical opera. Although in those cases it's a slightly different maneuver since the audience usually is in on the switch from the start: Female characters dress up as men, male characters don female attire, all pretending to be someone they're not.
But Hitchcock, Shakespeare and even Mozart couldn't have imagined the rich dramatic possibilities for personal obfuscation provided by the Internet. It is these scenarios that are at the heart of MTV's new series,
"Catfish: The TV Show,"
which premieres Monday, Nov 12, at 11pm.
Simple Premise
The premise is simple enough but loaded with possibilities. Yaniv "Nev" Schulman, a 20-something kid from NYC, and his filmmaking friend, Max Joost, surf the 'Net seeking young men and women who've had extended online relationships. After years of intense—sometimes passionate and intimate—chats online, one person in the relationship wants to meet the other face to face. Nev makes these meetings happen, and he's well placed to do so.
Several years ago, Nev was involved in an online relationship. The woman he was chatting with sent him what she said was her picture. The intensity grew as Nev became attracted to the woman he saw in the picture as well as what she said to him online and during phone calls.
When he finally traveled south to meet her—with his buddy Max and a camera crew in tow—it turned out she was not the girl in the picture. In fact, she was very far from the young, comely co-ed whose image had been burned into Nev's psyche. While Nev says he was heartbroken, he ended up staying friendly with the woman. In addition, Max and he had themselves what they felt was footage for a documentary about how online relationships could go south. That documentary was called "
Catfish.
"
Instant Fame
The project, made for about $30K, became an indie hit, grossing several million dollars. It also made Nev and Max celebrities of sorts. And this despite the fact that
a lawsuit was filed challenging the authenticity of the documentary
. The plaintiffs claim Nev and Max made up this story about this less-than-honest online relationship. The case is still pending, as is another, which may turn on the first suit. One of the songs used in Catfish the documentary was provided to its producers free under the fair-use doctrine. If the first lawsuit finds that the documentary was actually a mockumentary, and therefore a film not a documentary, then the fair use doctrine does not apply and the filmmakers owe the songwriter, Amy Kuney, a tidy sum, her publisher claims.
Regardless, Nev and Max are riding Catfish for what they hope will be television glory. Beginning Monday at 11pm on MTV, Catfish: The TV show will feature Nev and Max bringing people in online relationships together. Of the three episodes provided to your blogger, none of the couples, when they met face to face, hit it off immediately. In fact, without providing too many details, things go very badly in some cases. In each relationship, one person is hiding a significant fact from the other; someone is not whom they appear to be on Facebook or some other social media platform. You can imagine the scenarios. Sometimes a person in the online relationship uses a false picture, which is part of what happened to Nev. Other times a person will create a fictional personality and communicate as that person.
Sunny Gets Blue
In tonight's pilot episode, the unsuspecting person in the relationship is a very pretty, 21-year-old from Arkansas named Sunny Cross, who seems to have met an online superhero. She's been chatting for a while on Facebook and via phone with 18-year-old R.J. The lad claims to be a model based in L.A. who frequently works the runways of N.Y. and Paris. In addition to his modeling, R.J. has told Sunny he's studying to be a doctor and in his spare time works on Chelsea Handler's late-night talk show.
Nev and Max are skeptical that such an uber specimen exists. Sunny has no doubt he does; in fact, she's fallen for him. Hard. Her laptop is loaded with his modeling shots and she's read magazine articles about him. She wants to marry R.J. and "pop out" several children with him, she says. Max asks Sunny if she has any fear about meeting R.J. face to face. Her quick and sure answer is "no." Again, there's much more to the story, and we won't spoil it for those of you who will see the show, but in the end, R.J. isn't the person he seemed to be; not even close. As Nev says, with the Internet it's never been easier for people to hide who they really are; instead they can project an image of themselves as an international model, working in Paris, living in L.A. and studying medicine.
Catfish as Travelogue
While Catfish: The TV Show is a terrific advertisement for Internet safety, it also turns out to be very good television, loaded with emotion and drama. Nev and Max keep things light, but are sensitive to their subjects. In the pilot episode, for example, they fret over how to tell Sunny that it might be unwise to fall in love with someone you've never met in person. Another reason the show works is the way each couple's story is told. We see Nev and Max researching R.J. and others like him. We hear the phone calls they have with these people. In addition, MTV has shot the series simply, to resemble an indie documentary. It's so simply filmed that you feel like you are on the road with Nev and Max, staying in budget hotels, eating in joints. In this sense, Catfish becomes a travelogue, a look at life for young, working-class people in Small Town, USA. It's not a particularly upbeat portrayal.
In several of Hitchcock's films—"The Birds" and "Marnie," to name two—characters seek to escape their mundane lives through robbery. In Catfish: The TV Show, people are escaping their quotidian existence by hiding behind Facebook, creating the persona they'd like to have. Unfortunately, their escape from reality can cause a great deal of pain for others, as Sunny experiences in the pilot episode. Of course, had Sunny insisted that R.J. Skype with her, she would have found out his real identity. But then, there'd be no need for Catfish: The TV Show.