How to Crowdfund a TV Series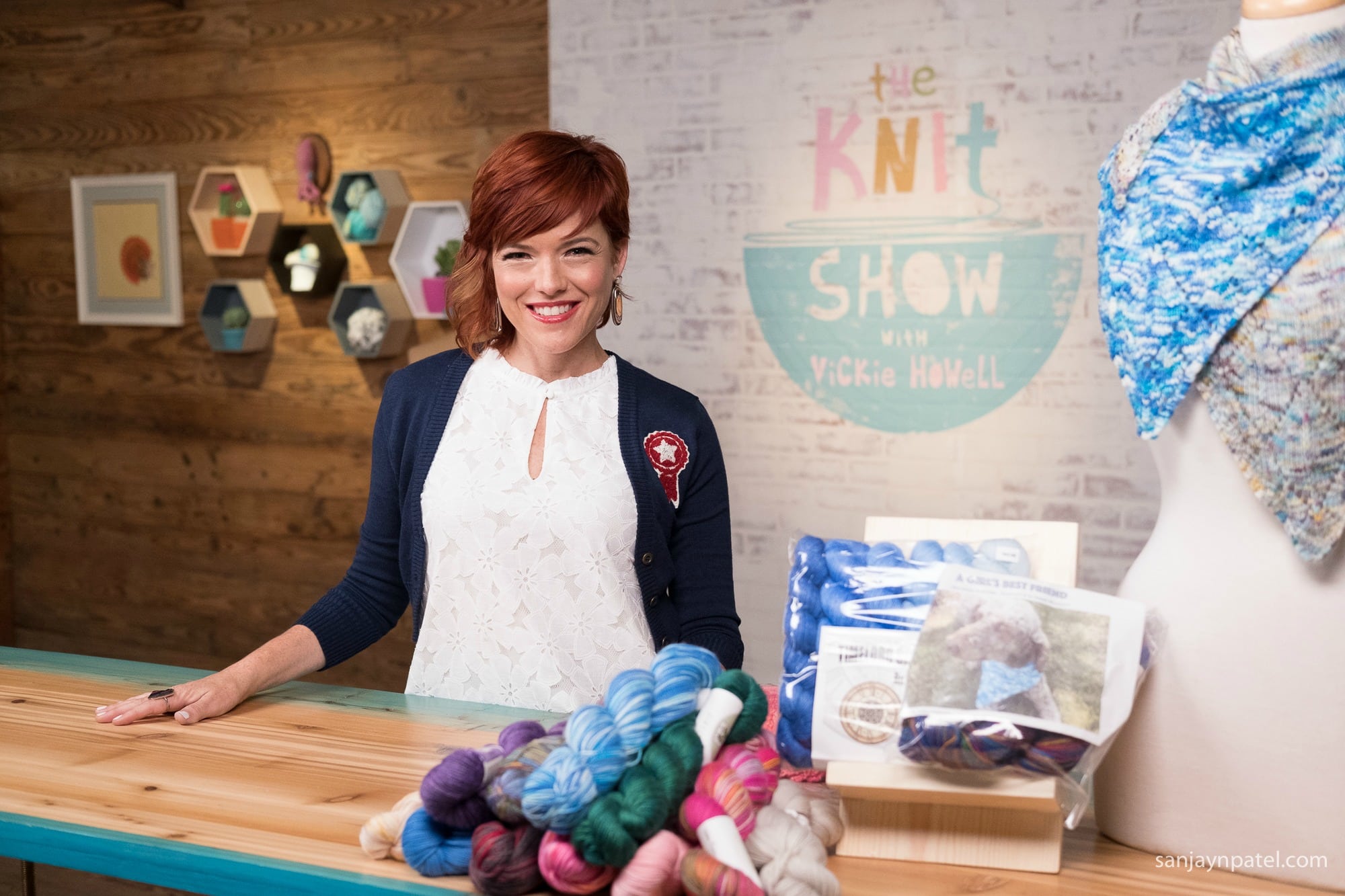 With craft shows becoming a rare breed, longtime TV host Vickie Howell turned to her fans for help in creating "The Knit Show," which launched this week on YouTube. A Kickstarter campaign raised more than $83,000 to make it happen. We chatted with her about the move to digital and what it's like to crowdfund a series.
Why a Kickstarter campaign for launching this show on YouTube? There are plenty of YouTube tutorial-type videos, including from your own channel, out there.
For me, the show really is about community. It's for and by the community. We went to Kickstarter to fund it. I've worked in and out of television since I was 19 years old. Times have changed a lot and the demands of programming have changed a lot. I saw a need, and I realized where we were in broadcasting. It wasn't necessarily the time to go through regular channels to try and get a show made the way that I knew that it could be. I decided we could DIY our own DIY show. This show was developed and produced as if we weren't intended it to be a quote, unquote YouTuber show. It's really produced for YouTube specifically because we wanted it to be accessible for anybody, anywhere throughout the world. But we developed it as if it we're going to be broadcasting it on any major television network or streaming service, like Netflix or Amazon.
So, you went to YouTube for the platform, but not to be a typical YouTube show? YouTube has its own genre that's very different than traditional TV—unboxing videos, step-by-step how-tos, etc.
Yes, but you are on YouTube so you have a 'when in Rome' kind of thing. You'd be foolish to think we could throw up this one season and leave it there. We'll have to constantly have new content. I did actually do an unboxing of my wardrobe. There will be a lot of bonus content that is in the YouTube style.
Why isn't traditional TV the place for this kind of show right now?
Candidly, they're not interested in craft shows right now. Although that's changing. Amy Poehler has a show coming out on NBC, and NBCU bought [online content site] Craftsy. So, I think it will slowly change. Most of the DIY shows are more home improvement based because that's where the advertising money is. And the reason you wouldn't be with a streaming company right now is they are focused on these big projects that are going to get them attention, like Hulu's recent Emmys. Eventually, that will trickle down to DIY because gone are the days where mainstream programming is king. Survival is going to be based on niche programming. I think they'll get there, and we'll be ready when they are.
How hard was it to do this format, starting with the Kickstarter component?
The Kickstarter aspect was by far the most challenging. There's a reason that when your local NPR station is doing a fundraiser they beat you over the head with it. I realized just mentioning it once or twice a day was not going to raise the money. It was really a full-time job to get people to care, acknowledge and take action. Actually producing is sort of my wheelhouse, so I felt at home with that.
Economically, how is it going this route?
It's like a start-up business. We're bootstrapping it. The money that we raised wasn't so everyone could make a ton of money. That was really just for production only. It has nothing to do with publicity, travel, advertising and so on. A lot of people who believe in the project have been working for less than they would normally. Ultimately, if we sell it or grow it or get more funding, then yes, it would be more economical because we own it.
Does the craft category—knitting, sewing, quilting—get a bad rap in general? Does it have a grandmotherly vibe?
Absolutlely. The first show I did, "Knitty Gritty" on DIY 14 years ago, had the tagline: "Not your grandma's knitting." Then it was about reclaiming the craft—and then I started getting letters from grandmothers saying "I hope it's OK, but I watch your show too." I felt awful. I ended up calling the network and asking them to pull it. We didn't need to diss one group to support another one. So, here we are this many years later and I still hear the same misconceptions, the same stereotypes. I think it's because it's still one of the crafts that is still considered "women's work." For me, I want to show how far you can go and what you can do on something that's based very stereotypically on a "women's craft." I want to shatter it because it just happens to be another method of creativity and artfulness. It's just a different medium. We really are trying to knock those stereotypes topsy-turvy.