Here Comes truTV Awareness Month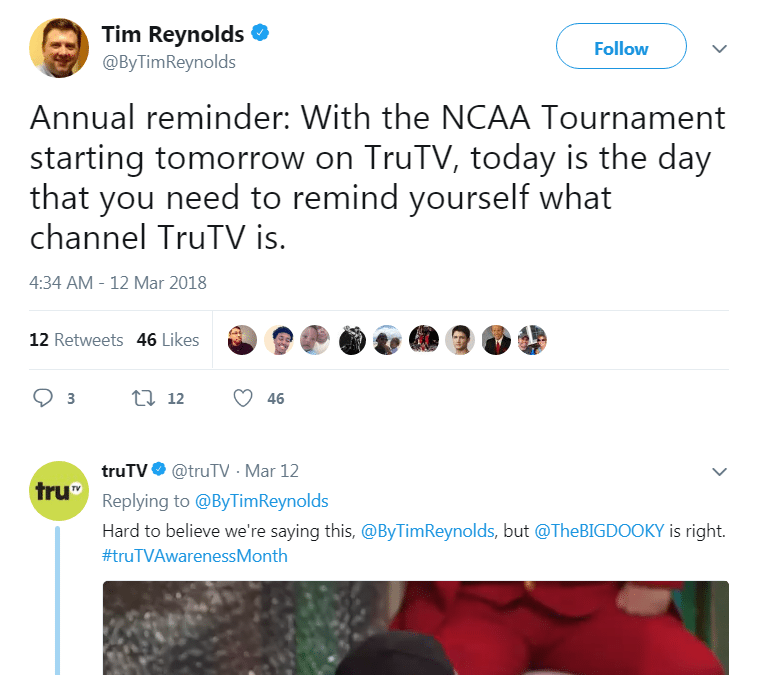 TruTV continues to poke fun of itself as new viewers seek out the network during March Madness, with the net rolling out "truTV Awareness Month." The campaign is intended to remind college hoops fans that it has other programming, with truTV featuring new eps of its most popular shows all month.
"We will change the lives of dozens of people," says Andrea Savage, star of "I'm Sorry," in a tongue-in-cheek truTV Awareness Month PSA that features similar messages from network talent.
Every March, social media sees dozens of comments along the lines of "Where is truTV?" or "What the hell is truTV?". In the vein of any publicity is good publicity, truTV has capitalized on the buzz. First it launched the #haveufoundtruTV campaign in 2015. Then came #truTVisathing and last year's #Funnycauseitstru. Last year's campaign resulted in 315 million social impressions and a CLIO Grand Award.
While the campaign takes place the entire month of March, it hits critical mass this week with the first four games of the tourney airing on the network. Look for custom video clips and plenty of real-time social response to build engagement.