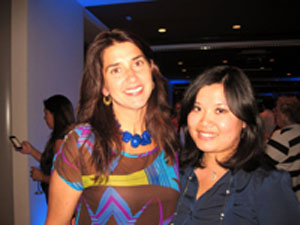 Laura Gentile, vp, ESPNw & CableFAX editor Joyce Wang
Forty years after the passage of Title IX, the law guaranteeing equal access to sports for females at federal funded schools, 3 accomplished women in cable and sports told CableFAX about their relationship with sports at the "40 For 40" event June 21 in Washington, D.C. WICT, in collaboration with espnW, Scripps Networks Interactive and the Women's Sports Foundation, honored 40 women who made a significant social impact after playing sports in high school or college.
"Sports really helped me gain confidence," said Kathy Payne, chair of the WICT board and vp, content acquisition for Cox Communications. A high school tennis champion and team captain, Payne went on to earn undergraduate and law degrees from Duke University and currently negotiates carriage deals with all professional sports leagues, regional sports nets and college conferences. Much has changed for the better since enactment of the law. "I like the fact that my daughter thinks it's perfectly normal that women should have the same rights as men," Payne said. Her favorite tennis players are Billie Jean King and Rafael Nadal.
What sort of advice do these women have for young girls interested in sports?
"Get involved," said Irma Garcia, the first and only Hispanic female to head a NCAA Division I athletic program. As a basketball player, "you learn how to manage time, multitask, teamwork, to listen and to share," she said. "When I made decisions, it's based on what I learn from sports…Sports help me go through tough times."
WICT CEO Maria Brennan believes there is a real market for women sports, pointing to nets like ESPN who are focusing on women athletics. "My husband and I are huge women sports fans," she said.
The 40 list is comprised of honorees in a wide range of fields of accomplishment including power players in cable/media like Lifetime/History chief Nancy Dubuc (collegiate crew), actress/producer Tina Fey (high school tennis) and talk show host Ellen DeGeneres (also high school tennis). A category of "Plus Four More" was created in addition to the "40 For 40," including coaching legend Sue Enquist, Cox's Payne, sports law professor Nancy Hogshead-Makar and Cindy McConkey, an All-State high school track and basketball player, now svp, corp comm for Scripps.