FX and del Toro Prove Fearless in Making 'The Strain'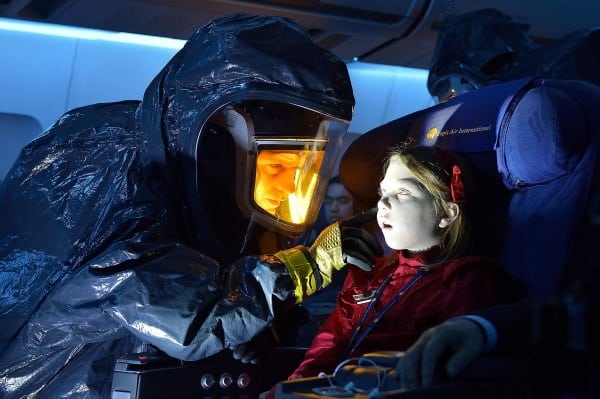 Thought you knew all there was to know about vampires, didn't you? Well, guess again. Director Guillermo del Toro ("Pan's Labyrinth," "Pacific Rim"), producer Carlton Cuse ("Lost," "Bates Motel") and author Chuck Hogan are ready to put a stake in the cable vampire genre once-and-for-all with FX series, "The Strain" (debuts Sunday at 10pm).
The show tells the story of "Dr. Ephraim Goodweather," the head of the Center for Disease Control Canary Team in New York City. He and his team are called on to investigate a mysterious viral outbreak that turns people into animalistic bloodsuckers (i.e. vampires).
In addition to warding off preconceived notions of vampire romance, the minds behind "The Strain" have been equally effective in avoiding the reputation television has for being overbearing, creativity-killers when it comes to producing new series. In fact, del Toro and Cuse sung nothing but praises for the network that helped them bring the best-selling book trilogy of the same title (written by del Toro and Chuck Hogan) to the screen.
"FX has been fantastic. They gave us the latitude to tell the story the way we wanted to…It is really unadulterated," Cuse said on a call with reporters. "I mean we can't drop f-bombs, but that's about it."
With some of the edgiest, most risqué drama series out there, like "American Horror Story," "Sons of Anarchy" and even the now-off-the-air "Nip/Tuck," FX has certainly built a reputation as the home for high-concept, sophisticated uses of blood and gore in storytelling. And it's worth mentioning, their choice of shows has garnered some serious attention from critics. Just this week, FX received 45 Primetime Emmy nominations—the most of any basic cable network ever. What's the key to creating such a "fearless" portfolio of shows? Some would say it all goes back to the famously talent-friendly ways of FX Networks/FX Productions CEO John Landgraf. He's known for getting along exceptionally well with his network's writers and showrunners, a reputation that proved itself tried and true in the case of "The Strain." It wouldn't be too far from the truth to say it was love at first bite.
"John Landgraf read all three books before he decided he was going to be our partner in this endeavor," said Cuse. "He knew exactly what he was getting into. It was him that kind of made that decision of 'yes, 'The Strain' is a story that fits into the portfolio of shows that are on FX.' Then it was kind of up to Guillermo and me to deliver our best version of that show for those guys."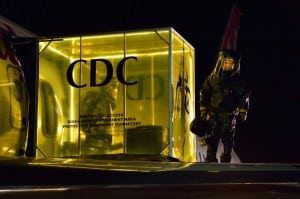 "We had a fantastic first meeting," said del Toro. "The very head of the network and everyone in that room knew the three books and yet they were excited by Carlton…        they were excited about where he would take the show as a showrunner. That made it very unique in our eyes."
But there's more to wooing top talent than being friendly and doing your homework before pitch meetings. It helps when creatives are already fans of your programming.    Del Toro admits he is a long-time fan of FX. In fact, del Toro and the network are so chummy that he guest starred on "It's Always Sunny in Philadelphia" in 2012. But            also, it appears FX's reputation played a big part. Cuse says that he and del Toro had "a very specific business model" in mind that included the need to spend a                            considerable amount of money beforehand on scriptwriting, R&D and the like. But that didn't cause Landgraf & Co. to shy away. "They jumped in wholeheartedly and            they embraced the way in which we wanted to produce the show as well as our creative vision," said Cuse.
Efforts to advertise the series are as ambitious as the pilot. FX has partnered with Xbox to bring fans an array of custom content including exclusive sneak peeks from the first episode airing this weekend, art, photography, behind-the-scenes footage and a del Toro fan Q&A available only on Xbox One and Xbox 360. It hasn't all been easy sailing, however. Billboard ads for the show in LA and NY featuring a flesh-boring worm and an eyeball prompted complaints. So many that the network is working on toning it down (though, surely not too much). After all, the show's tagline is "Our ending is their beginning."
"We do go into territories that are pretty extreme and graphic…we're talking about a viral takeover," said del Toro. "We're dealing with a fear that is central. When you think about it, it's the concept that is disturbing."