Free Speech Week – A Discussion with Floyd Abrams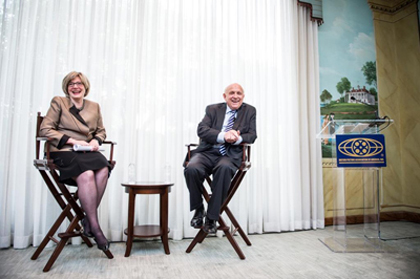 Moderator, Barbara Cochran, Curtis B. Hurley Chair in Public Policy Journalism
at the University of Missouri School of Journalism, and speaker, Floyd Abrams,
at NCTA and MPAA's discussion on the First Amendment. Photo Cred: Joy Asico

—
The old saying goes talk is cheap, but free speech isn't. That sentiment is especially apt during Free Speech Week, which takes place annually during the third week of October. To commemorate this year's event, MPAA and NCTA hosted a discussion with acclaimed first amendment lawyer Floyd Abrams. He reminded the crowd that free speech isn't just about what shock jocks on the radio say.

"We've never had a more democratic… in the sense of open to the world, free, unedited and available to the public at large… ability of individuals to have their say," Abrams said, in reference to the digital revolution. "We see the price of the First Amendment all the time when we think about the Internet."

Abrams compared the Pentagon Papers, in which he represented the New York Times, to the recent news involving Bradley Manning and Edward Snowden. Daniel Ellsberg, who released the Pentagon Papers to the Times and other outlets, "exercised a level of self-restraint" by withholding volumes of the Pentagon Papers, according to Abrams. "He believed that it was important to try to negotiate an end to the war and that making it public might interfere with negotiations," said the lawyer. Some 7,000 pages of the Pentagon Papers were released to the public, while Manning released 700K, and Snowden released millions, he said.

"Just about anything can be published, and just about nothing can be stopped in advance with prior restraint," Abrams explained. "The American press can just about publish anything it gets. There are exceptions, but just about anything can be legally protected…"

More on Free Speech Week, now in its ninth year, here. As part of this year's event, The Media Institute honored NAB president/CEO Gordon Smith and AMC Networks president/CEO Josh Sapan at its Friends & Benefactors Awards Banquet Tuesday night in D.C. Smith received the American Horizon Award, while Sapan was given the Freedom of Speech Award.