Former Steven Tyler Manager Eric Sherman Tapped as Veria Living CEO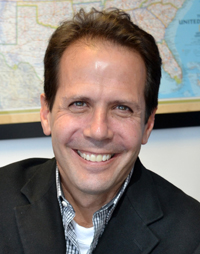 Veria Living's new CEO, Eric Sherman
Eric Sherman, the longtime Steven Tyler manager and former MTV Networks exec, has moved from rock and roll to health and wellness. We chatted with Veria Living's new CEO about applying his music industry experience to cable and his plans for the Zee Group-backed network.
Across Sherman's career in cable, music and entertainment, branding has been the key takeaway. "There's no disconnect between managing an artist and managing cable networks," said the former general manager of VH1 Classic, VH1 Soul, and other MTV networks. "What I did for Tyler is no different than what I did for VH1." For instance, Tyler has certain attributes, such as "rock star, wild man, flamboyant, music genius," he said. Similarly, cable networks have their own characteristics. "Once you understand the brand—whether it's an artist or a cable network—you'll know how to extend it," he said. For a well-established brand like Tyler, a natural extension was a clothing line: As Tyler's manager, Sherman helped seal a deal with Tommy Hilfiger to develop a clothing line inspired by the Aerosmith lead singer. For Veria Living, the brand extension is a line of health supplements found at Whole Foods. "The principals for both are essentially the same."
Another important lesson learned, particularly during Sherman's 20 years at MTV Networks, is the value of research. You need to understand and talk to your audience. "That needs to be the basics of what you do," he said. Following his MTV career, Sherman served as president of Fuse TV, relaunching the network's brand and introducing a new programming strategy—including bringing the Bonnaroo Music Festival and Rock and Roll Hall of Fame ceremony to the channel—that led to record high ratings.
Now a week into his new gig, Sherman has joined Veria Living as the network is venturing into original programming, such as the web-based series "Health Soup" rolling out next year, which provide tips on living healthier lives. Original web content is part of the company's digital strategy to beef up content for
Veria.com
, which has seen its traffic grow 15-fold over the past year, with unique visitors increasing more than 1000% and average time spent on the site growing by 15% per month, according to Sherman. Additionally, distribution has grown 50% over the past 18 months. The network, currently in active discussions with major distributors and indie operators, will continue to aggressively expand distribution going forward, in addition to pushing original content and expanding TV Everywhere efforts, Sherman said.
Sherman's return to cable has a personal element to it. Just like music, "TV is my passion," he said. Helping to build one of the most successful brands in rock in the past several years was "exciting and fun," but it required a weekly commute from New York to LA and constant traveling around the globe. "To keep up with the wear and tear of the business, it was essential to place a renewed emphasis on my personal health and wellness," he said. As an avid runner, eating and living healthy is "something I practice personally," according to Sherman. Now he is looking to help Veria's growing audience do the same.