An Evening of Firsts: Bonnie Hammer Honored With Humanitarian Award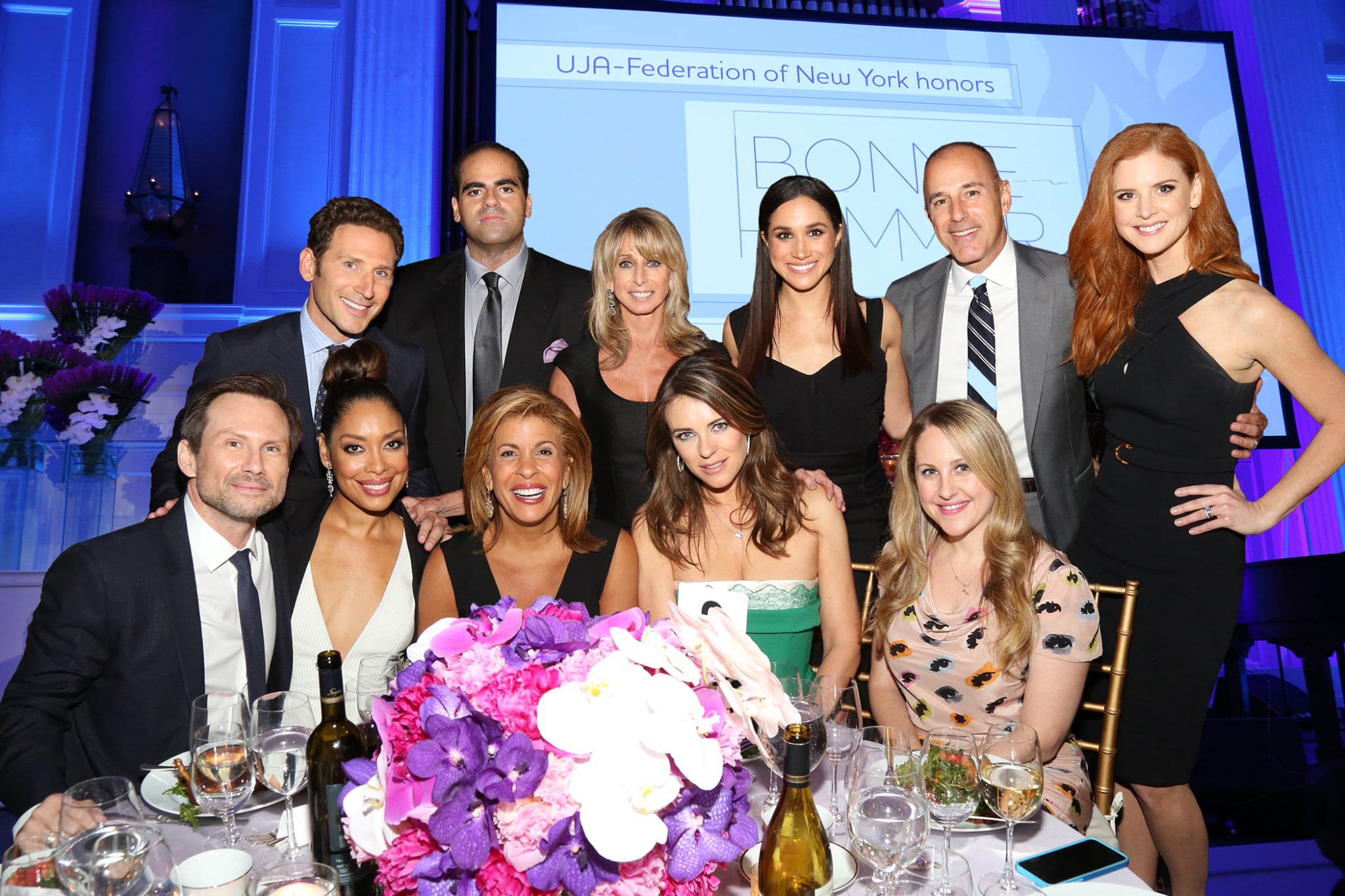 Chairman of NBCU Cable Entertainment Bonnie Hammer was awarded the Steven J. Ross Humanitarian Award by the UJA-Federation of New York at an event in NYC Tuesday evening. Remarkably, she is the first woman to ever receive the award.
"I am mindful of the humbling fact that I am the first woman to receive this award," she told the crowd of industry heavyweights, including past honorees Rob Marcus and Steve Burke. "And, I'm certain, not the last."
"Royal Pains" star Mark Feuerstein questioned why he was chosen to co-emcee the event, when stars like Christian Slater, in the room representing USA Network's "I Robot," would appear to be far better choices. Here's why: He can rap the Shema prayer—and did so to the delight of everyone in the audience. The rap was followed by reciting the HaMotzi prayer over bread, in tandem with co-emcee Meghan Markle, star of USA Network's "Suits."
Markle said Hammer has served as the actress's role model, particularly regarding her programming choices throughout her career. "The characters on her programs were strong and multi-layered, creating role models for young women everywhere. Lucky me, to have my role model not on screen but in real life," she said.
Michael Fricklas, Viacom's evp, general counsel and secretary, said that "Bonnie personifies the most important part of our jobs… to make people think. To make us empathize, to change the way we see the world, in a positive way, to move us to act."
"The Royals" star Elizabeth Hurley was given the task of introducing Hammer to the stage, noting that before she met her a year ago she thought the executive might be "a bit frightening," given her powerful position and friends. "On paper there are definitely a few reasons that [would make] me, a humble English girl, feel intimidated…. However, I am very happy to report back that in spite of Bonnie's remarkable achievements, she is not super scary. She is a very kind, a very lovely woman and she's also incredibly good company," she said.
On stage Hammer took the opportunity to call attention to a list of other "firsts" in her life. One was the first time she'd ever spoken before a large group of people. It, too, was sponsored by a Jewish organization and served kosher food and "carefully vetted liquor options." It was her Bat Mitzvah, of course. It was also the first time a girl was allowed the rite of passage at her parents' Temple. "Truth be told, my being the first Bat Mitzvah had less to do with an eagerness to read from the Torah than the desire to do what my brother had done," she said. "But it was a momentous day for me and, as hard as it is to imagine today, even more so for my Temple."
The final first she recalled was her first encounter with anti-Semitism. While attending college in Lawrence, KS, she correctly identified the definition of the word "shibboleth," which she'd learned in Hebrew school. "That answer sealed my fate. I went from an 'A' average to flunking the class." Several more incidents and 2 years later he was fired. "I may have flunked that class but that experience taught me an important lesson that stayed with me ever since… That prejudice and discrimination, based on our differences, is an unfortunate fact of life. Looking back I realize how much that experience informed and influenced much of the work I have done during my career."