Entertainment Studios' Janice Arouh on her Favorite Fictional Character
Editor's Note:
We'll be featuring profiles of executives honored in our 2012 CableFAX 100 issue. We asked each of them to answer a few lighthearted questions and we've shared their responses below. Here is what Entertainment Studios' Janice Arouh shared with us. Read the 2012 CableFAX 100 issue in its entirety here.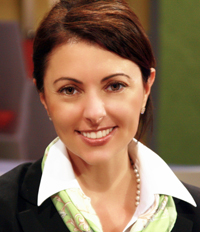 Janice Arouh
President, Distribution and Marketing
Entertainment Studios
Early bird or night owl? Early bird.
"The Voice" coach I'd like to work with is…
Blake Shelton
Favorite fictional character?
Nancy Drew.
I'd give up my cell phone for a week if… I was in Hawaii on vacation with my family.
My famous last words will be…
It is what it is.
When scientists from the future dig up a cable system from 2012, they will conclude:
What a tangled wired infrastructure.
My trick for keeping my email inbox from filling up?
I read all my emails daily before leaving the office.
Why isn't TV Everywhere … everywhere yet?
Technical platform inconsistencies and encumbered content rights snarl progress.
The one thing I tell my kids about success in life:
It's not about the view but about the climb.
Worst thing I've ever heard someone say in a meeting:
It can't be done.
Bands I would actually go see live:
Rolling Stones, Sting.
My favorite iPad app: Trulia


My guilty television pleasure is: "The Walking Dead"