English Speakers Welcome – Univision Deportes Preps for World Cup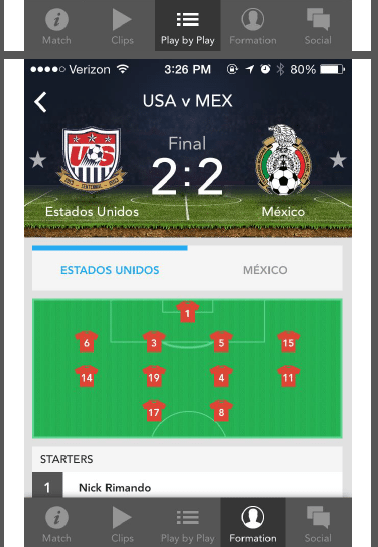 Today I got a demo of the Univision Deportes app, which officially launched a few weeks ago. Do I speak Spanish? No. But you can get it all in English. With an added bonus: Since the content itself is in Spanish, you still get to hear that famous GOOOOOOAAAAAALLLLL!
Scott Levine, Univision's svp of products, said the company is banking on a whole lot of live streaming. Multiplatform usage is increasing rapidly, as evidenced by the recent Mexico-New Zealand World Cup qualifying game clocking more live streaming views than the last World Cup itself did. "We believe that … the consuming mode is changing for media," Juan Carlos Rodriguez, president of Univision Deportes told me. "In the Eastern time zone we're going to have good time slots. For Pacific, Monday through Friday is going to be working time. So the digital numbers are going to increase," he said.
A few highlights of the app: With the push for live streaming, live scores are naturally front and center. Also, there are stats for each team that come to you in real time. The app is, on the whole, focused on users' team and league preferences, as other sports apps have done (like Bleacher Report's Team Stream app, for instance). And all the games you didn't catch—or those you want to revisit—are still available for you to peruse.
When in comes to video, two cool features are clips of the game's highlights, available on the app in more-or-less real time ("in two minutes or less," according to Chris Wagner, evp of NeuLion, the company that powers the app), and a quick highlight reel put together by Univision is available for every game. Levine said they're also big on the app's editorial curation. There are articles related to your team or league and the highlight reel will include multiple camera angles from the ground.
Of course Univision doesn't own the rights to every game in Spanish, so the in-depth video highlights will vary depending on the league and game you're watching. But the company does have the World Cup, so that's a clear advantage.  "We have all rights for Spanish, both on television and digital," Juan Carlos Rodriguez, president of Univision Deportes said. "You also have the ability to produce from the IBC, the International Broadcast Center. And also the ability to use all FIFA images. There are only two companies that can do it in the US. In English, it's the ESPN, in Spanish it's us. So we're assuming ratings are going to be huge during [that time]."