EMC Sector Deal Value Up Significantly in Q1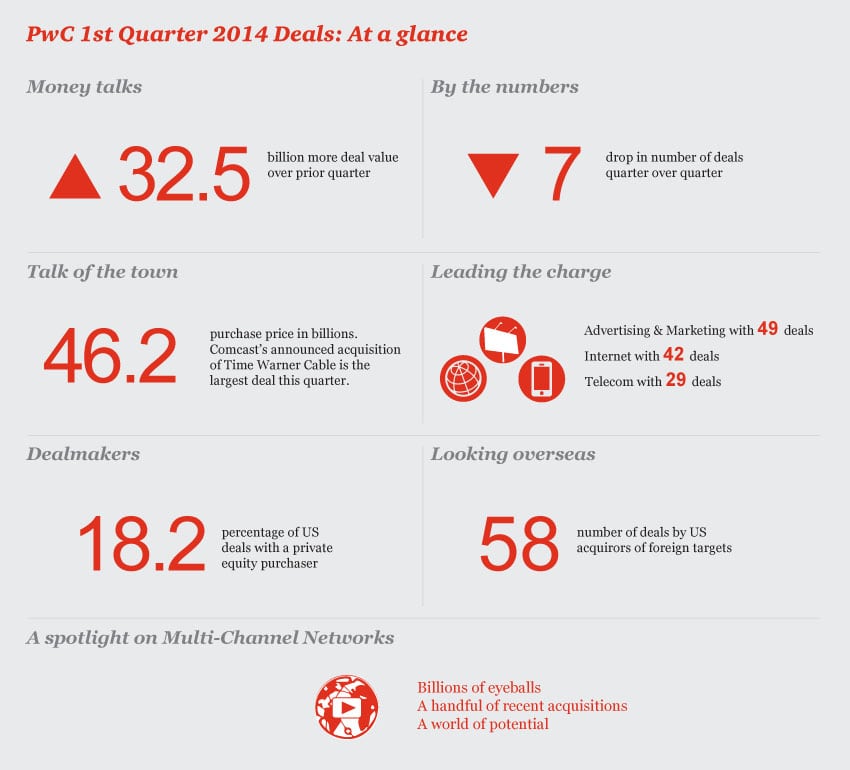 The combined value of deals announced in the U.S. entertainment, media and communications industries during Q1 increased from $33 billion to $74 billion year over year, according to a PricewaterhouseCoopers report. The uptick was largely driven by megadeals, notably the Comcast-Time Warner Cable proposed merger. Three other deals were significant: Facebook's proposed acquisition of WhatsApp, Lenovo Group's acquisition of Motorola Mobility Holdings and Media General's acquisition of LIN Media.
The M&A sectors showing the most activity were advertising/marketing and Internet-related/information services, announcing 49 and 42 deals, respectively. They're also the most active for private equity-backed deals.
Additional highlights of the study include:
*The value of Internet-related deals has increased to $20.6 billion. The sector is seeing some interest from other industries, such as retail.
*On the communications front, deal value declined, but that's in large part due to last year's Liberty Global $16.4 billion purchase of Virgin Media. Excluding that transaction, Q1 deal value in the sector increased $1.7 billion and was largely driven by communications equipment transactions.
*There was a slow down of consolidation of local broadcast stations, possibly due to awaiting the FCC's ruling on joint sales agreements.
*More deals in TV production, digital content and film production have raised content deal activity in Q1. TV production specifically is on track to significantly exceed deal volume from 2013.
*The recreation and leisure sector saw increased deal activity, driven by deals for sports teams, fitness facilities and golf and country clubs. Regarding sports deals, most were related to soccer teams or soccer-related businesses. Moving forward, there may a shift from the larger deals involving U.S. sports leagues to golf and fitness clubs or less-established sports.