Doing Good—Caring the Comcast Way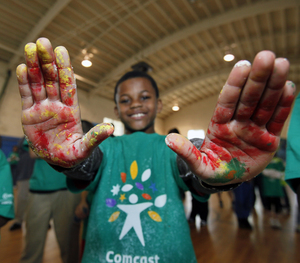 150 volunteers turned out at Northeast Frankford
Boys and Girls Club as part of Comcast Cares Day
Comcast Cares Day saw nearly 70,000 volunteers in 39 states and the District of Columbia take part in the company's annual signature day of service. What started 11 years ago has become personal for employees, who often bring along friends and family members to participate.
Comcast Foundation pres Charisse Lillie found herself making her way to 2 projects on the service day (Apr 21). Lillie, who also is vp, community investment for Comcast Corp, started in Middletown, CT, where she spent her college years at Wesleyan University. The community and volunteers, including children from Macdonough Elementary School, were building a garden for an 8-year-old girl who passed away last year from an aneurysm.
The principal of the school received a check for $12,500 as well, and Lillie found his emotional reaction particularly moving. "12,500 isn't a huge amount of money, but it's meaningful to them," said Lillie. And seeing the educators in the community who invest so much in its youth at a formative age was a highlight, she said.
"For Comcast to have an opportunity to contribute in this way, it's an honor and a privilege for us," Lillie said. Next stop was Springfield, MA, where an underperforming Montessori charter school received a check for $25,000 and a new playground built with mulch. "The principal was overwhelmed," Lillie said. Previously, the playground was just a patch of earth, so now they have a place to play safely.
It's a monstrous task to coordinate 650 different projects—from school beautification efforts to planting gardens to building computer labs. Over the 11 years it has been in existence more than $11 million has been donated. And this year, the company had NBCU employees on deck to lend a hand. When it comes to choosing projects, the company takes suggestions from employees and partners, like the National Urban League, City Year and Boys and Girls Clubs throughout the country. The goal is to locate the local organizations that need the most attention, and the partners help Comcast focus.
With its expanded footprint, Comcast held projects in communities where NBCU does business, including New York, L.A. and Orlando. The day coincided with Earth Week as well, which NBCU's "Green is Universal" initiative supports. The earthy theme added more green-focused projects involving community festivals and garden building. Naturally, the day builds lots of camaraderie—among employees, the beneficiary organizations and top brass—and emotions run high. Nor are the company's high-ranking execs just giving speeches. They make tours to several different sites. They're out there leading projects and doing their part, rather than talking to media for the day.
At the L.A. site, said Lillie, very senior execs, including Universal Studios pres/COO Ron Meyer and NBC Ent chmn Bob Greenblatt, made appearances. NBC affiliates and Telemundo participated, too. "It's exciting that NBC colleagues really took up the challenge," said Lillie. "It really shows you what the addition of the NBC Family means with Comcast Cares Day."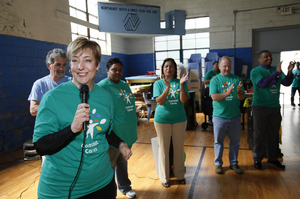 LeAnn Talbot, SVP of Comcast's Freedom Region, presents
Northeast Frankford Boys and Girls Club with a grant.
One of the beneficiaries this year was the Northeast Frankford Boys & Girls Club in Philadelphia. According to Al Mollica, Chief Development Officer and interim CEO, offices got a makeover, ceiling tiles were replaced and the restroom facilities were repaired—not to mention the donation of a $25,000 grant.
"Changes like this may sound basic, but to us they mean the world," he said. "They've improved the club environment for staff and for the kids and have enabled us to make an even larger impact in the lives of these children as a result."