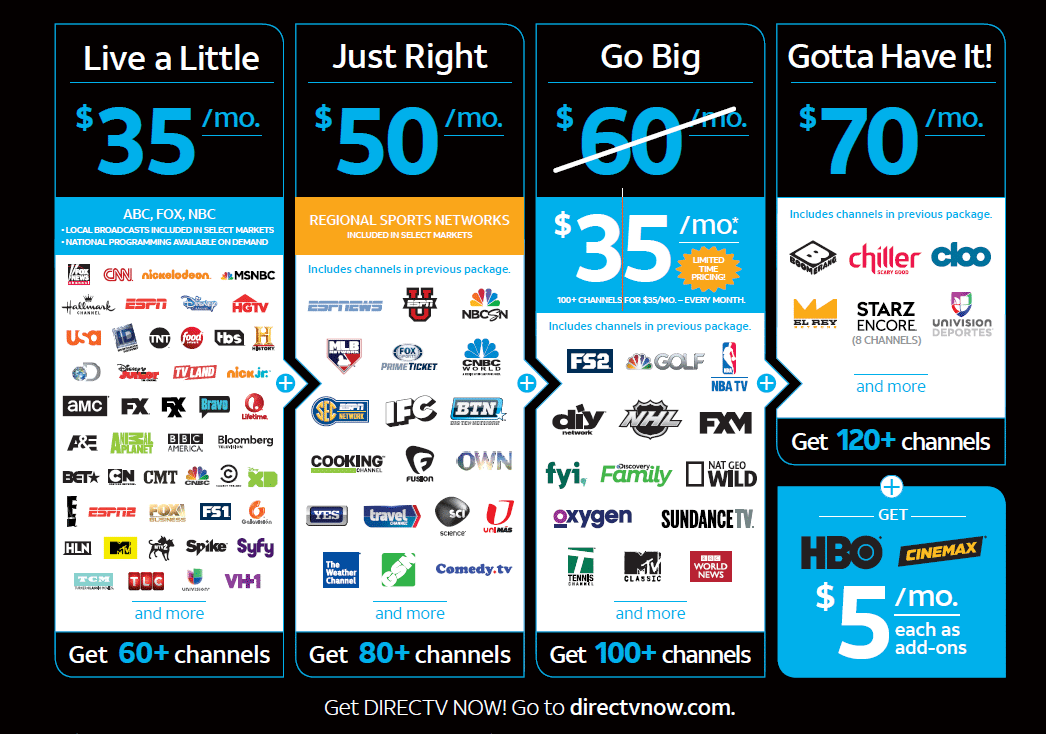 It's not easy to launch a viable streaming service these days as the market increasingly becomes crowded. Remember Intel's failed OnCue TV service (the technology platform was acquired by Verizon)? A major challenge is securing rights deals with programmers, cable and broadcast.
You can't deny that AT&T's DirecTV Now streaming service, launched on Mon, features an impressive content lineup. The company is offering 7-day free trial so I signed up for the "Gotta Have It" package, the most expensive package of the 4 content tiers being offered. It provides 120+ live channels for $70 a month. Many popular cable channels are included. And for extra $5 a month, users get HBO or Cinemax. However, Showtime is missing. There's also no NLF Sunday Ticket. The other 3 tiers include the basic "Live a Little" plan with 60+ live channels for $35 a month, the "Just Right" package for 80+ live channels for $50 a month and the "Go Big" tier for 100+ live channels for $60 ($35 a month during the promo period).  As for broadcast nets, CBS is missing from the lineup. And the availability of ABC, Fox and NBC vary. In the DC area, ABC isn't available. Fox and NBC are.
The DirecTV Now app for iPhone and iPad features a sleek interface that's easy to navigate. It's easy to find live and on-demand content from various networks, including the latest episodes, from the "Shows," "Movies" and "Networks" tabs. However, you can't search by specific actor. Once you find the content you want to watch, you can add them to a "Watchlist." Content is also divided by genre. The recommendation feature resembles the ones from other OTT providers such as Netflix and Amazon Prime. While AT&T said it's working on the feature, currently there's no cloud DVR so no recording of content. Content loads relatively fast (within a few seconds if you have a good broadband connection).
Overall, I am pleased with the DirecTV Now experience. It feels like a step in the right direction as the industry explores the future of TV, which is Internet-based. There's room for improvement. It would be nice to have features like cloud DVR, and notifications service to remind you when to tune in for your favorite shows.