DirecTV Going to the Dogs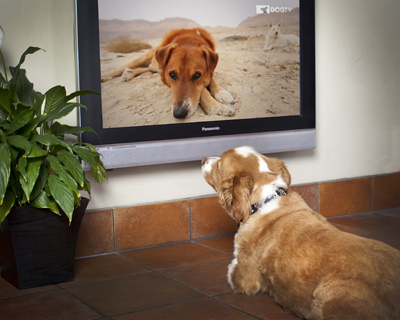 If you feel guilty about leaving Fido home alone while you're at work, DOGTV founder/chief content officer Ron Levi thinks he has the solution. After a year-plus launch on Cox, his subscription TV network for dogs ($4.99/month) launches on DirecTV Aug 1. DOGTV will offer a free trial through Aug 14 for DirecTV customers. We talked to Levi about his previous cable trial, DOGTV's programming and what's in this for cats…
There's a theory that there are two kinds of people in the world, dog people and cat people. Are you worried you're alienating half your audience?
Not only am I not, I thought of this idea because of my cat Charlie. The opposite is true. I am a big cat lover. I just felt so guilty leaving him alone all day. I thought why not try to use the TV and entertain Charlie. That was the whole idea, but it somehow became DOGTV. And you know what, I can't wait to do CATTV. We've been studying dogs for so many years now, I can't wait to study what's in cats' little heads. I'm not sure about the half and half thing. So many people have both and love both.
Does Charlie like DOGTV? Does it have crossover appeal?
We've been getting a lot of photos and videos of cats enjoying the channel as well. There are some segments on the channel that I can see cats loving, because they are very sensitive to motion like dogs are. They see it very well. Having said that, we have a lot of dogs on DOGTV. I'm not sure cats will be big fans of seeing other dogs. If we do CATTV, and I'm not sure we will, it will be around moving objects, animation and other cats.
You previously had a trial with Cox San Diego.
We looked for the right test market to launch this thing. San Diego is in the top 5 dog friendly cities in the US. And it has a large number of connected TVs. We gave it away for 1 year for free. We reached more than 17% of dog-owning households, which is about 6% of all Cox San Diego households. The average segment was watched for an estimated 2 hours and 14 minutes. And I think 2/3 of those were return users.
Is the channel still available in Cox San Diego? Did you launch there for $6/month?
We got an offer to extend to other territories in CA, not just San Diego. But after a month or two, we saw that we didn't have the energy and time to put into marketing this thing. Then we got the DirecTV deal, and we thought let's not put too much into that and take it off. Let's launch like you should—a proper channel nationwide. We put all the money we had into this nationwide launch. We also learned that being an On Demand channel is not the best idea for this. It needs to be a linear channel that you can turn on and leave on, day or night. The channel is also available online and on Roku.
There is a lot of educational TV for children out there. Are you working in some educational components on DOGTV—like don't chew on the furniture?
We have a section called exposure, where we expose dogs to things that normally scare them, like fireworks, a thunderstorm, a car, children… and all these things we know dogs are fearful of. If you play it on a low level on the TV with the right visuals, and increase the sound gradually over a few weeks, the dogs get used to it. [The net is working with Tufts Univ program dir of Animal Behavior, Nicholas Dodman].
Is there any concern about a dog watching TV?
No. Unlike children, they are not going to sit all day and watch TV. It's dogs. We're not changing them. We're just suiting the content to what they already are, which is dogs with very short attention spans. They have their own routines during the day. We can't ruin their day in anyway. It is a backdrop. It's something there that makes it more relaxing, expose them to the right visuals, and help with stimulation. There is no way dogs will become couch potatoes, even if I wanted them to, and I don't.
So, you have a cat. But do you have a dog, too?
Not anymore. Now I can't have a dog because I'm traveling all the time. If you want to have a dog, you have to be available. No, I don't have a dog right now, but I will one day. I'm around dogs all day because we're shooting the content.
Hmmm… I don't know. You sound a little bit like a cat person.
[Laughter] I won't deny I love cats, but I certainly love dogs!