DirecTV Dropping Russian-backed RT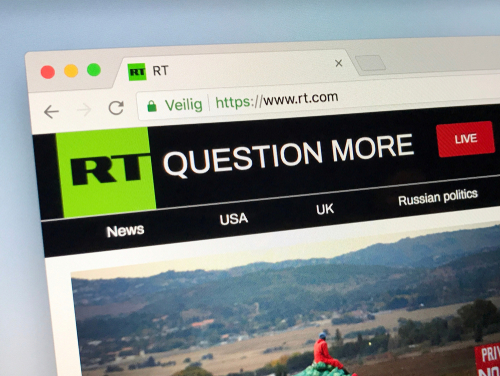 DirecTV is dropping Russian state broadcasting network RT from its lineup today.
"In line with our previous agreement with RT America, we are accelerating this year's contract expiration timeline and will no longer offer their programming effective immediately," a spokesperson told CFX.
DISH Network also offers the Kremlin-financed channel on its satellite TV service. "Our thoughts are with all the people of Ukraine, and particularly with our team members in the country. We are closely monitoring the situation," DISH said in a statement.
Across the world, there has been mounting pressure to cut ties with Russian-controlled entities. YouTube has removed RT and Sputnik in Europe, and the European Union is removing RT's TV and web services. It is still available in other parts of the world on YouTube, including in the U.S. Over the weekend, YouTube did de-monetize the channel by not supporting it with ads following a request from Sen. Mark Warner (D-VA).
NAB President and CEO Curtis LeGeyt on Tuesday urged broadcasters carrying Russian-sponsored programming to drop it, saying that the airing of such content is "extremely limited." Broadcasters have carried content from RT over the years, prompting the FCC last year to require broadcasters to disclose when foreign governments or their representatives lease time on their airwaves.
"The National Association of Broadcasters (NAB) is a fierce defender of the First Amendment and the critical importance of the ability to freely express views, both popular and unpopular. While the First Amendment protects freedom of speech, however, it does not prevent private actors from exercising sound, moral judgment," LeGeyt said in a statement. "To that end, given the unprovoked aggression exhibited by Russia against the free and sovereign people of Ukraine, NAB calls on broadcasters to cease carrying any state-sponsored programming with ties to the Russian government or its agents."
NATPE announced it would prohibit Russian companies from participating in its upcoming marketplace and conference in Budapest. "The Ukrainian people have our full support over the barbaric and horrific invasion of their homeland by the brutal dictator Putin and his surrogates. We wish we could provide more tangible assistance, but what we can do is join the world community and prevent Russian presence from conducting commerce," NATPE said. "Therefore we are banning Russian companies from our upcoming international television sales market to be held in Budapest from June 27-30, 2022."