CTHRA Team Innovator of the Year: Comcast NBCUniversal's HR Team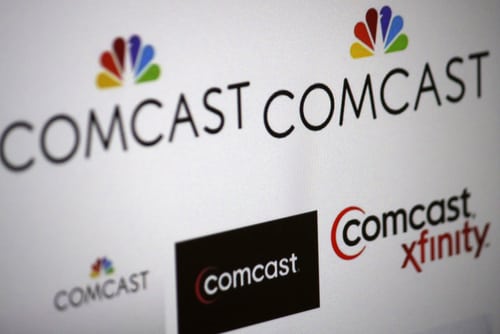 Congrats to this year's winners of CTHRA's Excellence in HR Awards. The Cable and Telecommunications Human Resources Association have honored Comcast NBCUniversal's HR team for their outstanding work in their field.
Since 2007, CTHRA has acknowledged these companies for going beyond their typical duties and thinking outside the box to shape their company culture and the field as a whole.
It's no secret that 2017 was a whirlwind year. Between hurricanes tearing through the country and wildfires blazing in California, Comcast NBCUniversal's HR team didn't have much time to breathe. The HR team provided immense disaster relief support in Florida, California and Texas. They established a special emergency relief benefit plan specifically designed and customizable for impacted employees and their families, launched a dedicated disaster relief hub that helped affected employees access the resources they needed. The team also organized a companywide voluntary support program, Operation Teammate, that directed monetary support to people in need.
Thanks to the initial efforts by the HR team, Comcast employees across the country stepped up to support their teammates. The company came together to support those in need and opened access to more than 268K WiFi hotspots to enable people to stay connected during the natural disasters, and also created a digital housing sharesite and rideshare app to offer living spaces and transportation for employees in need. In total, Comcast raised $130mln for the victims of Hurricanes Harvey and Irma as well as the wildfires in Northern California.
"We're big on innovation, we're deeply committed to the idea that we're better at innovation when we're diverse," EVP of HR, Comcast Cable, Bill Strahan said.  "You just really care about these people. Our culture is a very relationship driven one. People here like each other. Different places I've worked, one of the places that stands out for me at Comcast, we're this very large company that drives technology, but people here really like each other."
Q+A with Bill Strahan, EVP, HR for Comcast Cable
How have you worked to integrate the legacy and values of Comcast NBCUniversal into your newest initiatives?

We were started by an entrepreneur 55 years ago and that spirit drives a lot of how we try to approach HR. We're comfortable taking risks and making decisions. We're big on innovation, we're deeply committed to the idea that we're better at innovation when we're diverse. One of the ways we tie it back to our business is we try and make all of our HR programs designed from an employee-centric point of view. The HR team is aware of and in sync with the organization's overall sensibilities, our values and our legacies, and we have a history of connecting people. We also build milestone packages. We connect things to moments or experiences that matter by listening to them carefully. We're absolutely fanatical about leading with digital first. We try to make sure that all the tools, resources, systems and transactions are available to people in really good digital-first.
What were the biggest challenges you faced in rapidly responding to disasters across the country in 2017?
First one is you just really care about these people. Our culture is a very relationship driven one, people here like each other. One of the things that stands out for me at Comcast is we're this very large company that drives technology, but people here really like each other. During a disaster, it's all the more of a sharp point where we really want to make sure we take care of employees and their families. Our playbook is based around what kind of disruption will folks have in their lives, and what levers do we have around that.
We contracted with our EAP to put people on site once the storm passes, during the first initial period during recovery. They did things like helping people navigate FEMA paperwork and home insurance paperwork. It's one thing to check the box saying that insurance is taking care of people, but it's another thing to realize when folks are having some of the worst weeks of their lives, how do we help them reduce the stress and take advantage of all the things available? We did a temporary change to our benefit rules. During hurricanes and wildfires in California, we took off all of those restrictions. We eliminated co-pays during that period so there were no limitations on people getting care that they needed during that time.
Second thing is turning around, how do we make sure that the communities and our customers are recovering as quickly as possible? How do we get them connected? We did things like opening up hotspots. Last thing is one of the best ways to respond to disaster is make sure you're listening to the people that are right there in front of it, trusting their instincts.
What were the HR team's biggest successes over the past year?
I think number one is supporting the business. You have to make sure the business is healthy. We put a focus on talking about the right talent, the talent needs to be aligned to the business strategy. We want people to be engaged and supported in doing their roles, it also means going back and doubling down and investing on talent that is already in the organization, to make sure that as our business evolves they're able to evolve and grow with it. The marketplace and the tools that we use to support our customers are constantly improving.
Also our commitment to the military community. We've hired more than 15K [military members and veterans] since 2010, we had a commitment to hire 10K which we've met and surpassed that goal. We support not just veterans, but reserves and active duty families. We have special hotlines and special benefits to help the entire military family, not just the single veteran that comes to us.
We've also put a huge effort into becoming really good at change management. A couple years ago we realized that of all the things we could be good at, being good at managing change was really important. We made a lot of investment so we could support not just innovation, but speedy innovation. Not just being entrepreneurial, but agile entrepreneurial. Without a good change management program, that can fall into chaos easily.
What are the goals for the team in the upcoming year?
My biggest goal is to try and take this whole notion of the digital toolkit that we've put in front of our customers, we want to make sure that HR has built that out. The goal is can we have HR processes and tools that operate at a consumer-grade interface? We want to make sure that the employment experience at Comcast is at least as good as what you're experiencing as a consumer.