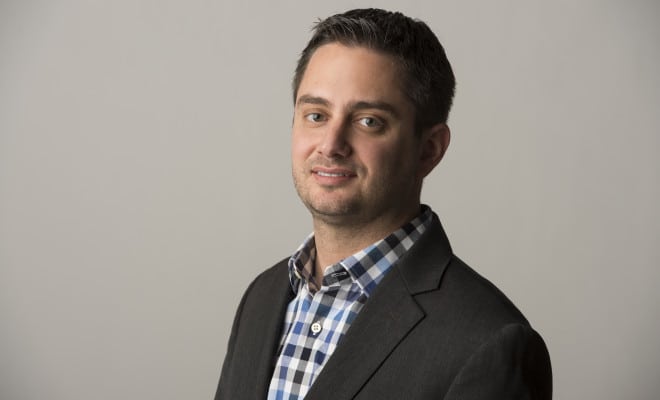 Nate Ravitz
ESPN upped Nate Ravitz to the newly created role of vp of audience development. He'll oversee programming of digital programming on ESPN.com and the ESPN app while leading the network's social media, mobile push notifications, digital video and ESPN's email newsletter. His last post was senior director of digital video and push operations. Ravitz joined the company in 2007 as general editor for ESPN Fantasy and a year later was upped to deputy editor followed by senior director of fantasy and premium content. Before joining the company he was executive director at CDM Fantasy Sports where he led content operations for Rototimes.com, CDM Fantasy Sports and two annual preview magazines. Ravitz tells us he spends time with his five- and one-year-old, and he enjoys playing tennis and basketball. He's a big fan of UFC and WWE, and he loves to travel—he's made it to more than a dozen countries. Another passion: his 11-year-old English Bulldog.
Chris Albert
Chris Albert was promoted to evp, global communications & talent relations for National Geographic Channels. Beyond developing global consumer and trade communications strategy for the company's networks, he'll align those communications with the expanded joint venture between 21CF and the National Geographic Society, which brings together all Nat Geo's media assets. Albert came to Nat Geo in 2000 as director of communications. Prior to that, he worked at Sony Pictures Television in Los Angeles as director of media, talent relations and promotion. He also served at Fisher/Merlis Television Inc. and held positions at Rysher Entertainment Inc. And lest we forget, Cablefax gave him the PR Executive of the Year in 2014! Albert tells us working at National Geographic certainly has had its benefits: for one, Dog Whisperer Cesar Millan helped him pick out his dog, Miami. He's an avid runner, thinks he is an Instagram influencer (@c_albert), and is a watch collector with over 100 timepieces in his collection.
Leigh Anne Brodsky
Discovery Communications has hired Leigh Anne Brodsky as evp, Discovery Global Enterprises. She'll be responsible for consumer products, location-based entertainment and program sales worldwide. Brodsky comes from Peanuts Worldwide and Iconix Entertainment, where she led the company's global business and established the brand's largest retail presence in its 65-year history while serving as managing director. Prior to that gig, she was president of Nickelodeon Consumer Products. Earlier on she held senior executive positions at Lorne Michaels' Broadway Video ("Saturday Night Live") and Scripps Howard. We learned that Brodsky has a tattoo. "My best friend and I went to Bart's Tats in Woodstock and each got a tattoo surprising our kids and our husbands," she says. She's also a huge musical theater buff. Her mom was an actress and a voice and piano teacher, she and all five of her siblings were in plays throughout high school and college, and her family and theater friends even started a community theater group in New Jersey. And, she loves yoga. "With all the business travel I do, yoga is the perfect prescription!"
Bryson Gordon
Bryson Gordon was named evp, data strategy for Viacom. His responsibilities now include Viacom's Marketing and Partner Insights group, which creates audience insights and analytics for Viacom's advertising partners. Also part of the gig: data strategy for Viacom's integrated marketing and social data products. Prior to joining the company a year ago, Gordon worked at Microsoft in various roles. He led consumer marketing at Microsoft Surface and built the company's direct-to-consumer e-commerce channel. Bryson tells us he studied chemistry and 16th century Scottish poetry before embarking on his career in computer security.