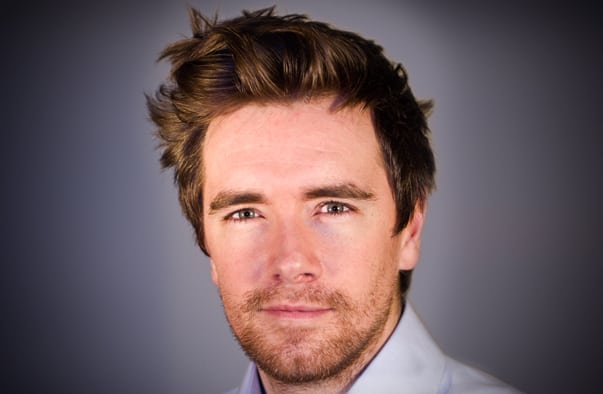 Simon Young
National Geographic Channels International appointed Simon Young to its Global Content Hub as commissioning executive producer. He'll be based in London and will work on series and films airing on Nat Geo Channel in 170 countries. Most recently, Young oversaw production of the doc "Richard III: The King In The Car Park," the highest-rated factual program in Channel 4's history. Over the course of his 15-year career he has been a producer, writer and director for Darlow Smithson Productions, Pioneer, Brook Lapping and Atlantic Productions. We learned that Simon loves nothing more than finding the most amazing stories on the planet and finding ways to put them on television. In fact, he has one idea he's been holding on to for five years and is waiting for just the right time to pitch it. If Simon could be anywhere else in the world right now, he'd be camping by a Namibian desert road with his wife and kids, "beer in one hand and barbecue tongs in the other, watching the sun go down." It's either that or watching re-runs of "Man vs Food."
Lucienne Papon
Production company ITV Studios America announced some new hires and promotions this week. Lucienne Papon has joined the company as svp, scripted television. She was last head of development and production for Martin Campbell Productions, where she launched its TV division at ABC Studios, co-executive produced the ABC series "Killer Women" and served as vp of production and development for film and television. Lucienne tells us that as a mother of two young boys she spends a lot of time building and cleaning up after the epic American Ninja Warrior obstacle courses they construct in the house. She was the captain of the rowing team in college and is a big basketball fan. "I'm pretty sporty and can be dared into just about any type of workout," she says. Her favorite drink is a Negroni.
Hildie Katibah and Noah Korn
Also at ITV Studios America, Hildie Katibah was tapped as director of development for its West Coast office and Noah Korn was promoted to director of development in its East Coast office. Both will create and pitch non-scripted projects. Katibah has produced Discovery Channel's "Monster Garage" and then launched Jesse James' production company, Payupsucker Productions. There she was behind the specials "Jesse James Is a Deadman," "Outlaw Garage" and "Iraq Confidential." Hildie tells us she has a belt in the martial art Krav Maga. She's the youngest of eight children, a huge football fan (she's got a mean spiral), and, while attending Venice High School she produced and starred in a public Access Show called "Through The Venetian Blinds."
Korn joined ITV as development coordinator in 2012 and since then has developed series such as Animal Planet's "Rocky Mountain Bounty Hunters." Prior to that, he worked in production management on VH1's "I Want to Work for Diddy" and the syndicated "Dr. Oz Show," among others. Noah on his favorite sports team: "I live and die by UofA Basketball, which isn't going so well for me lately." He's honeymooning in Tokyo later this year, and "there's a 35% I never come back," he says. Also, he went to space camp as a kid. "And no, they don't have a zero gravity room (that's impossible)."
Patrick Macken
Arris appointed Patrick Macken as svp and general counsel. He's charged with oversight of the company's global legal functions. Macken has provided legal support to Arris for a decade as outside counsel at Troutman Sanders LLP. There he served as partner in the corporate group. His specialties are legal issues focused on securities laws, M&A, capital markets and corporate governance. Patrick is a competitive runner and has completed multiple marathons and half marathons, we learned. He spent three years as an EMT in New Orleans before going to law school and he currently serves on the Board of Trustees of the Atlanta Police Foundation. And his other full time job is chasing around three—soon to be four—kids.
Comcast Promotions
Comcast announced a slew of executive promotions in various departments. In Administration, Deborah Buhles was upped to vp, administration. She'll develop and manage programs for facilities for the Philadelphia campus. In the Comcast Assurance and Advisory Team, Catherine Gray and Anthony DeShan were promoted to vp of Comcast Assurance and Advisory Team. Grey will design and executive the cable audit plan, focusing on financial, operational and regulatory areas for the cable business. DeShan will oversee internal audit staff, risk management and performance of financial, operational, and compliance audits for NBCU.
In Federal Government Affairs, Juan Otero was promoted to vp of federal government affairs. He's charged with federal legislative advocacy and represents Comcast NBCU with members of Congress and the Administration. In Legal, Matthew Fradin and Derek Squire were promoted to vp and senior deputy general counsel. Fradin will deal with legal issues related to strategic corporate transactions like M&A, divestitures, joint ventures and debt financings. Squire has a similar role and also serves as general counsel of Comcast Ventures.
Also in Legal, Brian Rankin was upped to vp and senior deputy general counsel. He's charged with providing counsel for legal and regulatory issues relating to Comcast's cable, broadband, voice and other businesses. In the Strategic Intellectual Property department, Mark Dellinger was made vice president, strategic intellectual property. His responsibilities include patent transaction matters related to Comcast innovations and patent strategy support for M&A and corporate investments.
In Customer Experience, Charlie Herrin was promoted to evp of Customer Experience. He will act as a customer advocate by partnering with other business units to enhance the customer experience. The Consumer Services Group upped Matthew Strauss to evp and general manager, video services. He'll oversee all aspects of the video business across devices. Daniel Herscovici was promoted to svp and general manager, Xfinity Home. All parts of the Xfinity Home business will fall under his purview.
The Technology and Product division has promoted Jan Hofmeyr to svp, X1 Platform. He'll continue to lead the team in delivering the next-generation X1 video platform. Bridget Kimball is now svp, software development and engineering, which entails leading the Combined Conditional Access Development (CCAD) organization, a joint venture with ARRIS. Rick Rioboli was upped to svp, Comcast Metadata Products and Search Services (CoMPASS). He leads the team behind the cloud-based platform that powers Comcast's video applications with metadata and discovery services.
Over in Engineering and Platform Services, Sherita T. Ceasar assumed the role of svp, national video deployment engineering. She'll now lead the vision, direction and management of all national video deployment projects. In Government Affairs, Michael Brady was promoted to svp, state regulatory affairs, which entails leading state regulatory activities across Comcast's footprint. Klayton Fennell was upped to svp, government affairs. The new role involves support for government and regulatory affairs and guidance to the field government affairs teams and the company's headquarters business and operations teams. Rick Smotkin's new position is svp, government affairs. He'll manage the company's advocacy before state and local intergovernmental associations and also lead Comcast's employee grassroots activities.
The Sales and Marketing department has upped Clem Cheng svp, human resources, sales and marketing. Providing strategic HR leadership now falls under his direction. In Cable Legal, Kathryn Koles was made svp and deputy general counsel. She provides legal support and guidance for advertising and advanced advertising initiatives. Meanwhile, David Marcus was promoted to svp and deputy general counsel and now deals with patent matters involving Comcast Cable.
A few of the aforementioned execs gave us some fun facts about their lives outside of work. Federal Government Affairs' Juan Otero is a Roman history buff and a lover of comic books. It's an under-rated art form in the 21st century, he says. Legal's Brian Rankin is a runner and a lifelong, diehard Chicago Cubs fan. Jan Hofmeyr of the Technology and Product division was born in South Africa and holds a passion for endurance mountain biking. He's completed one of his bucket list items, which was the La Ruta de los Conquistadores adventure race in Costa Rico two years ago.
Dan Herscovivi of the Customer Services Group is an NYC native and resides in Princeton, NJ, with his wife and two children. He's a fan of cooking and a self-professed foodie. Also in the group is Matt Strauss, who tells us that he has a U.S. patent for developing a dating on-demand service. Lastly, Engineering's Sherita Ceasar enjoys comedy and improv so much that she took classes. She's also inspired by the next generation of engineers through her work with FIRST robotics.