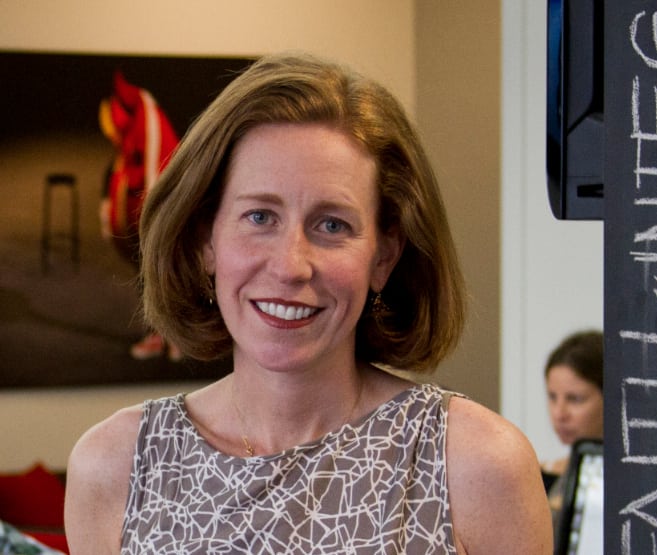 Betsy Morgan
TheBlaze president and chief strategy officer Betsy Morgan was upped to CEO, succeeding Chris Balfe. Morgan came to TheBlaze from The Huffington Post where she was the CEO. Before that, she was svp for CBS Interactive and the gm of CBSNews.com. Betsy tell us she loves to play tennis. We hear she hits a mean, low forehand and backhand, but she can't handle an overhead to save her life. Here's a tip: If you ever see her on the other side of the net, hit moon balls. She also loves her summer flower garden, which she begins to plan in the late spring. When it's in full bloom, she escapes to it as often as she can. She's even been spotted conducting business calls from the garden. Shhhh.
Rick Olshansky
AMC has hired Rick Olshansky as head of business affairs. In this capacity he'll lead negotiations for the network's original programming, productions, acquisitions, development and licensing agreements with studio partners. Marci Wiseman, now executive-in-charge of owned content distribution and strategy for AMC Networks, last occupied the position. Previously, Olshansky was a business affairs consultant with Microsoft Xbox Entertainment Studios and also served as evp of business operations at Bedrocket Media Ventures. He did a stint at NBCU as evp of television network and studio business affairs and also was head of business affairs for the Endeavor Talent Agency. You may not know that Rick is a founder of two organizations: Lincoln Remi Group, LLC, a company providing green alternatives to bottled water, and Pacific Park, an amusement park on the Santa Monica Pier. Regarding the latter, he was the developer as well. Rick also enjoys hiking, reading and sports.
Kenny Miller
Kenny Miller was appointed svp, digital programming and product for ABC Family. He's charged with growing the network's digital audience, developing ancillary revenue streams, oversight of product development and multiplatform content strategy. Miller was most recently an investor and co-founder of Kam.io, which created the Kamio social network and develops leading mobile apps. He also served as evp and head of digital product for MTV Networks and led digital programming and production for Nickelodeon's internal digital cable start-ups brands. He joined Viacom as executive producer and technical director at Viacom New Media in 1992, and at the start of his career he worked at Apple as a designer in their Human Interface Group. Kenny tells us he loves discovering new music. His newfound favorite band is alt-J. He's also completely dedicated to chocolate. Close to his heart at the moment is Bog Creek in chocolate, maple and cherry flavors, from Hay Rosie.
Kenda Greenwood
Kenda Greenwood was tapped as vp of unscripted development and production for MTV. Previously, she was executive producer and showrunner for four seasons of the MTV docu-series "Teen Mom" and Bravo's "Chef Roble & Co." She was also producer and director on ABC's "Wife Swap" and MTV's "16 & Pregnant." During her free time, Kenda can be found riding her bicycle around Brooklyn, cooking or drawing. In fact, she would have been a comic book artist in another life. Another lesser-known fact about Kenda: When things are going particularly well on a shoot, she's been known to steal three oranges from craft services and juggle them. Other new hires at MTV include Chelsea Friedland as senior director, development and production; Dane Reiley as senior director, unscripted comedy development and production; and Dan Caster as director of development and production.
Suzanne Gladstone Murch
Suzanne Gladstone Murch was upped from executive producer to vp, original programming, a newly created position at WE tv. She has been an executive producer at the network since June 2010 on series including "Marriage Boot Camp," "L.A. Hair" and "Kendra on Top." Before that, she was an executive producer at VH1. Her production company Olde/Gladstone Productions has worked with MTV, Lifetime and Disney and she has won Peabody and Emmy Awards in the process. She was also co-producer on 20th Century Fox's [FTSP/FoxLab] first syndicated medical reality show, "Trauma Center." Murch is a former journalist and oversaw an investigative unit and sweeps programming for KCOP, Los Angeles. Suzanne shared this little nugget about her upbringing: "My grandparents owned the Diamond R. Ranch in Placerville, CA. Growing up I would help them herd the Charolais cattle on horseback from the lower to upper pasture. And then there's always the loud whistle I picked up courtesy of my three brothers…I've been told it can wake the dead. You'd be amazed how handy these skills can be living in NYC!"
Angela Molloy
Also at WE tv, Angela Molloy was appointed vp of development and will work with West-Coast based production partners and agencies. She has produced series including "Million Dollar Listing Los Angeles" for Bravo, "Life with LaToya" on OWN and several shows for HGTV, A&E, TLC, VH1 and Reelz. Other roles on her resume: director of programming at TLC and positions at 3Ball Productions and PBS. Angela says she's a big yogi. Vinyasa Flow style. "Yoga has taken me around the world for retreats in Bali, Costa Rica and Mexico," she says. Also, she studied French from the time she was 6 years old and all through college. "But I have yet to live in France and really absorb it!"
David Stefanou
Lastly, David Stefanou has joined the WE tv as vp, development. He'll oversee new, unscripted series. Before working at the network he oversaw OWN's "Season 25: Oprah Behind the Scenes," Animal Planet's "Too Cute" and Logo's "The A List" franchise, as well as series for Bravo, Discovery and TLC at True Entertainment. At Oxygen he served as vp of original programming and also held previous positions at MTV UK, Wendy Finerman Productions and Franklin & Siegel Associates.
Rob McGlarry
MLB Network appointed its current evp Rob McGlarry to the post of president of the network. He fills the shoes of Tony Petitti, who left the role to become COO of Major League Baseball. McGlarry will be responsible for day-to-day ops. He's been at the network since its 2009 launch, beginning with the svp of programming and business affairs position and most recently as evp of content. Before joining MLB Network, he was vp of broadcasting business affairs for Major League Baseball. Fun fact about Rob and the MLB: He's a graduate of Amherst College, along with three current MLB general managers: the Baltimore Orioles' Dan Duquette, the Boston Red Sox' Ben Cherington and the Pittsburgh Pirates' Neal Huntington. Before working in sports, Rob was an assistant to former New York Governor Mario Cuomo, where, among other responsibilities, he was the Commissioner of the Governor's basketball league.