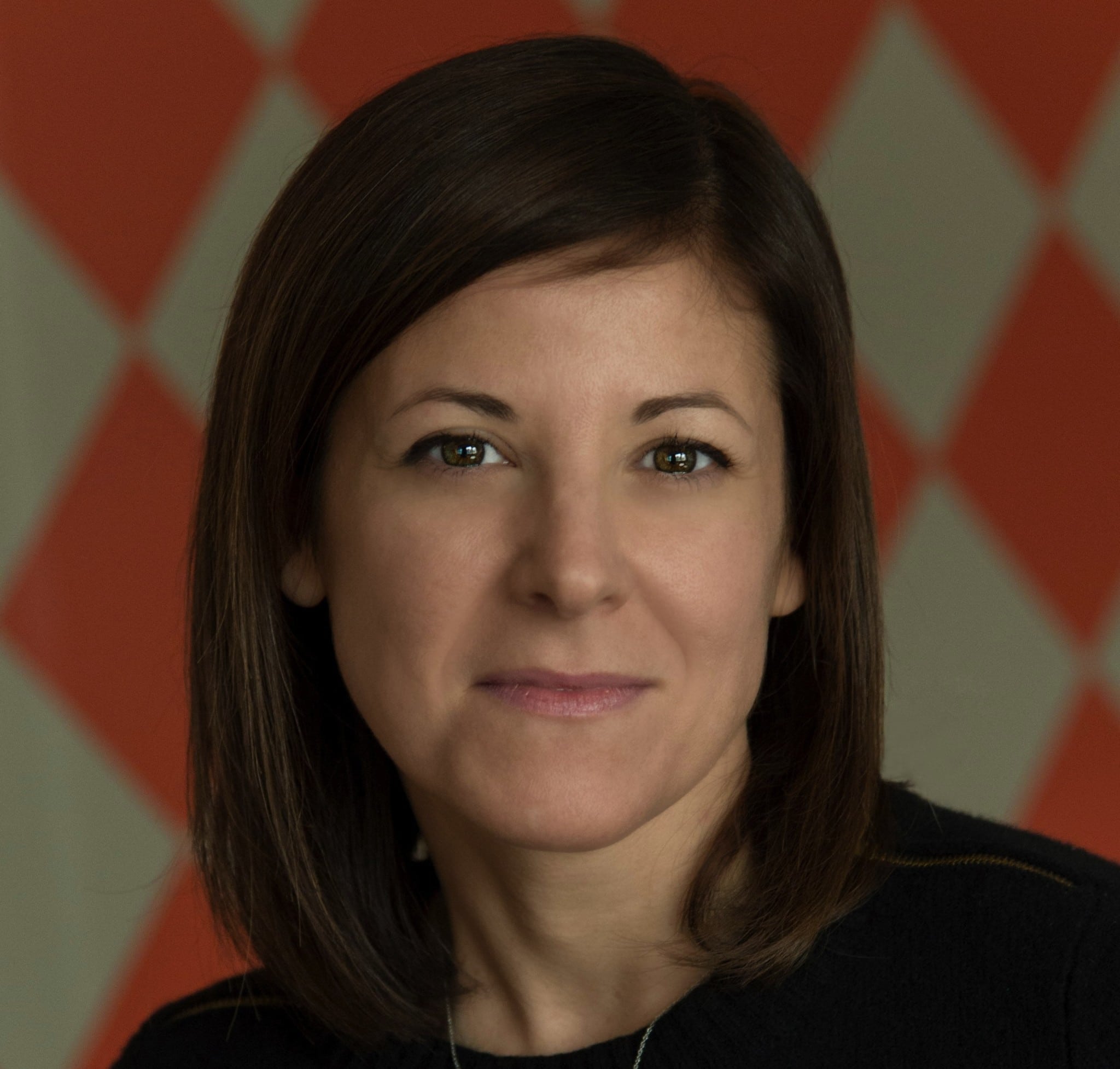 Stacy Moscatelli
Vevo has appointed Stacy Moscatelli as vp of marketing. She'll lead he company's publicity, social media, events and creative services teams and will also work with Vevo's product marketing and commercial marketing teams. She comes from Bedrocket Media Ventures, where she served as vp of marketing and brand strategy. Prior to that, she worked at Turner Broadcasting in public relations and marketing, at both Cartoon Network and Adult Swim. Something you may not know about Stacy: "My first concert experience was when I was six years old and I (hopefully, reluctantly) went with my parents to see the one and only Engelbert Humperdinck. I somehow ended up on stage and was serenaded by him, and he gave me the scarf off his neck. I don't recall the song, but my most vivid memory is that his cologne was intense. Very intense." When Stacy is not working she enjoys playing tennis, practicing bikram yoga, riding bikes and plotting to steal her brother's dog. [Full disclosure: I know this dog, and she is definitely worth stealing.]
Janet Brown
Universal Sports Network has upped Janet Brown to CFO from the vp of finance role. She joined the company in 2010 as controller. Brown began her career in public accounting, which was followed by a 16-year stint at Warner Bros., serving as director of cash budgeting and other other roles in financial reporting and budgeting. She also worked as manager of corporate accounting at Dole Food Company. Janet tells us she's a big fan of skiing and holds a season pass to Mammoth Mountain in the Sierra Nevadas. A self-proclaimed hometown girl, her two favorite sports teams are the Dodgers and the LA Kings.
Sarah Babineau
Sarah Babineau was appointed vp, original programming and development for Comedy Central, effective in December. She'll be responsible for development and production of East Coast-based original series and pilots for the network. Her last gig was at Amazon Studios where she worked as a development and programming executive since 2012, playing a hand in developing Amazon's comedic originals. Before Amazing Studios she worked in film as a creative executive with Alterman and Michael Aguilar's Dos Tontos production company, Sacha Baron Cohen's Four By Two Films and as an assistant to director Andy Tennant on the feature film "Fool's Gold." Sarah says she's an army brat (technically, a government brat) and grew up moving every four years of her life. Her favorite place to live was Italy, where her family lived in a villa on a vineyard. Though she works in TV, she didn't watch one until she was 10 years old when they moved back to the States—and has been hooked ever since. Sarah likes trying things that scare her—like bungee jumping in New Zealand. "Eight-and-a-half-second free fall is fun to try…once!" She's also a terrible cook, but thankfully a very talented dinner party guest.
Chris Kuist
The Weather Company has hired Chris Kuist as vp of insights and innovation. His responsibilities include creating a cross-platform insights program to support the company's ad sales division and translating consumer insights and marketplace intelligence to enhance advertiser effectiveness. His last post was senior director in Viacom Media Networks' strategic insights and research group. Prior to that, he was director of digital ad sales research at Viacom. And his first role there was sales assistant for MTV Networks. Chris tells us he voraciously consumes (and occasionally produces) music, food and beverages of all kinds. He loves gaming and tearing into an ever-growing stack of books he is aiming to someday finish.
Lauren Gellert
WE tv's Lauren Gellert was upped to the newly created position of evp of development and original programming. She previously held the svp role. Gellert joined the company in 2012 and has been instrumental in developing unscripted originals including "Kendra on Top" and "Marriage Boot Camp Reality Stars." Prior to working at WE tv, Gellert was vp of production and development at ION Media Networks and svp at RDF/Zodiak USA. She also served as vp of program development at truTV and has held development and production positions at Court TV and VH1. Lauren says she loves hiking with her family and discovering new parks in Westchester, NY, where they reside. There is a new addition to the family, a Basenji puppy, who also enjoys hiking. One of Lauren's favorite vacation spots is Kona, HI, where she recently helped her husband open a new restaurant called Akule Supply Co., on the historic Keauhou Bay.
Andrew Lustgarten
Madison Square Garden named Andrew Lustgarten evp, corporate development and strategy, effective November 18, 2014. He has worked at the NBA for the past seven years, most recently serving as svp, global strategy and before that was special assistant to the commissioner. In his new position he'll work with the executive management team on strategic business opportunities and partnerships, both internally and externally. He's also charged with identifying emerging technologies and market trends that benefit shareholders. Lustgarten worked as vp, finance at Cablevision and as a financial analyst in the Media and Entertainment Investment Banking Group of Bear Stearns & Co. prior to the NBA. Golf is an extreme passion of Andrew's."Even though I never played as a kid, I played golf for the first time four years ago and have become obsessed. I can break 90 when I play well – but can also be north of 110!" He also loves film—Star Wars movies ("The Empire Strikes Back" is his favorite), "Raiders of the Lost Ark," and "True Romance" and "Kill Bill" are at the top of the list. For music, he rocks everything from hip-hop to rock to reggae and will watch almost any musician play anywhere.
Phil Craig
Discovery Communications has tapped Phil Craig as evp and chief creative officer for Discovery Networks International (DNI). A newly created position, it's a combination of chief content officer and creative director and head of production and development for DNI. The role entails leading the international production and development team across 220 countries and territories. Craig will be based in London and start at Discovery February 2015. He's charged with leading production and development in Silver Spring, MD, New York, Miami, London and Singapore and will develop factual and lifestyle programming mainly for Discovery Channel and TLC. He'll work in tandem with Rosemary Newell, DNI's svp of programming and content operations, who led the production and development group while the company conducted a search. Craig comes from ABC TV in Australia, where he has been Head of Factual since 2012. Prior to that, he worked for UK independent producer Nutopia, at which he created the Discovery series "How We Invented the World" as well as "The 80s, The Decade That Made Us" and "How We Got to Now With Stephen Johnson." Craig also was senior producer at the BBC and Granada TV.
Fun facts about Phil: He held a gliding license before he could drive a car. He also played drums in a student band called "The Wobbly Jellies" but was not considered good enough to perform on their one single. He thinks that the British pub game "flip the beer mat" could be the next big celebrity format. He conducted the first in-depth interview with legendary singer Morrissey for UK television and also conducted the only documentary interview with President Obama following the Bin Laden raid. And this: he had a very small speaking part in the Oscar award winning movie "Chariots of Fire." Check him out at minute 1.14: http://youtu.be/mh34_CUHhaE
Fusion New Hires
Fusion announced several key editorial hires for its new Silicon Valley bureau. Kashmir Hill will act as senior editor. She most recently was a writer at Forbes on the topics of culture and technology of privacy. Kashmir tells us she was named after that Led Zeppelin song, has spent time on every continent except Antarctica, and likes to climb, hike, do yoga and go scuba diving.
Kevin Roose, formerly a New York magazine writer on technology, industry and culture, will write for Fusion's digital platform, co-executive produce a forthcoming TV show hosted by Fusion's Silicon Valley Bureau Chief Alexis Madrigal, and help manage the editorial team. Kevin spent a semester as an undercover journalist at a conservative Christian college and made a "Buffy the Vampire Slayer" fan site when he was 12. Also, he has a yellow lab named Lenny.
Other new hires include Pendarvis Harshaw, who will act as a writer and associate producer for Fusion, specifically an associate producer on the upcoming TV show; Cara Rose De Fabio as an experience designer; and Daniela Hernandez as a senior writer about science and technologies of the future.  About Pen: she likes to bike, drink tea, and, as a high school graduation requirement, she went on a 28-day backpacking trip in the Mojave Desert (better known as Death Valley). What we learned about Cara Rose: 70% of her texts are in emoji and she was born and raised in San Francisco.