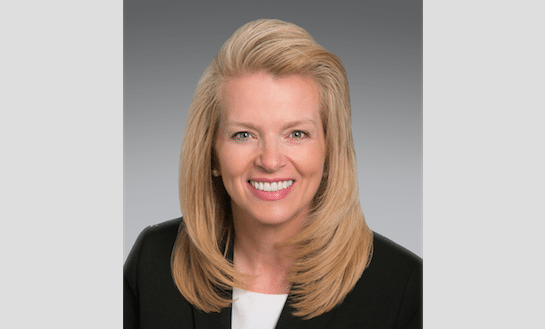 Kathryn Falk
Cox Communications appointed Kathryn Falk as market vp for Northern Virginia Operations, a role in which she had been serving as an interim since February, 2015. The territory includes Fairfax County, the cites of Fairfax, Falls Church, Vienna, Herndon, Clifton, Fredericksburg, and the counties of Stafford and Spotsylvania. Falk joined Cox in 2002 as vp of government affairs in the company's Northern Virginia operation. She also led the Northern Virginia Public Affairs team and in 2011 became vp of public and government affairs for the Cox Virginia region. Before Cox, she was president of the Virginia Cable Telecommunications Association (VCTA), served as the vp of government relations and head of the Washington office for the National Exchange Carrier Association, led congressional and public relations for the National Association of Regulatory Utility Commissioners, and worked for U.S. Senator Dennis DeConcini from Arizona. She tells us she loves politics, is married to a White House journalist and author, and in her spare time enjoys traveling, Legos, painting and going to the playground with her 4-year-old daughter.
Leslie Doty
Leslie Doty has joined Time Inc. as evp, consumer marketing and revenue. Previously, she has created consumer marketing transformations at companies such as MasterCard, CVS, Citibank and Trusted Media Brands. She was CMO of Trusted Media Brands, corporate vp, member engagement of CVS Health and also held executive roles at MasterCard Advisors, Leapfrog Smart Products, SunTrust Bank and Citi. A native of Manhattan, Doty is a voracious reader, a ridiculous foodie and a huge fan of going to the theatre. Fun facts about her family: She grew up spending weekends at Mets games with her dad and loves baseball as much as ever. And since her sister-in-law is an astronaut, she has been to two shuttle launches up close. The secret to her long marriage? "Shared interests, especially my husbands' and my love for coffee ice cream and the beach—which is what brought us together."
Aimee Leone
Fox Sports has hired Aimee Leone as svp of talent. She'll be responsible for recruiting, managing and scheduling on-air personalities. Leone spent two decades at NBC, working closely with former NBC Sports chairman Dick Ebersol and helping to expand the network to a 24-hour destination for sports with the launch of NBCSN. She also served as vp of the broadcasting and speakers division at WME/IMG. Leone tells us that her father was an animator and writer who worked on cartoon classics like "Tom and Jerry" and "Mighty Mouse." She's a native New Yorker, and before committing to move to Los Angeles her biggest move was last year when she crossed the state line into New Jersey. She's also an avid bike rider.
Del Mayberry and Ravi Ahuja
Elsewhere at Fox, longtime CFO Del Mayberry announced he will retire after three decades with Fox Networks Group. He arrived at Fox in 1983 and became svp and CFO for Fox Broadcasting Company in 1998. In 2002, he was upped to evp and CFO for FNG. Mayberry will be succeeded by Ravi Ahuja, whose current role is FNG evp, business operations and development. He'll have direct management of finance and accounting and will oversee business development for all FNG business units. Ahuja came to the company from Virgin Entertainment Group where he served as CFO. Before that, he was an associate at McKinsey & Company in New York and Los Angeles.