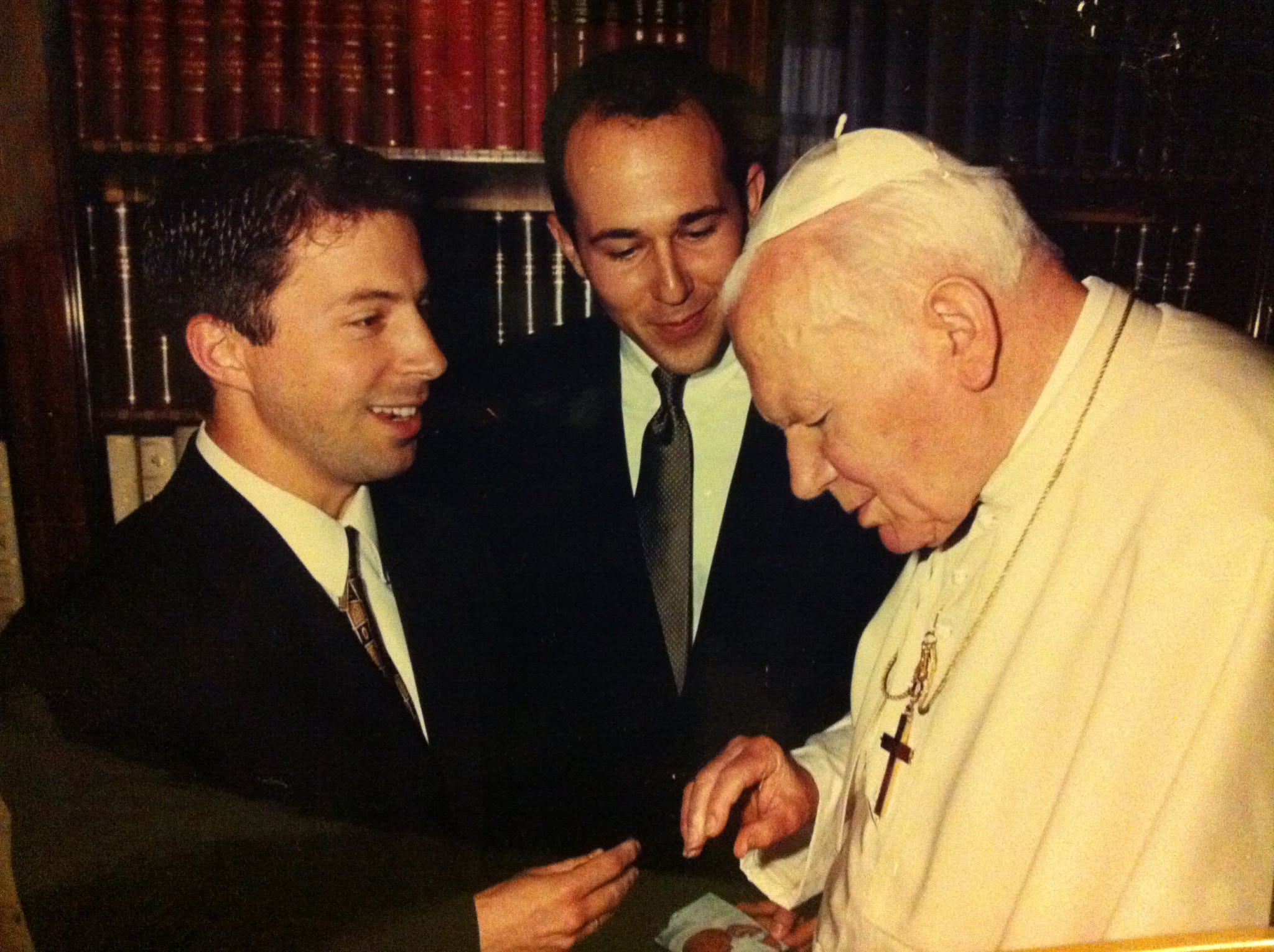 EWTN's Peter Gagnon (pictured in 1999 with Pope John Paul II)
Kavita Vazirani and Eileen Diskin
Comcast Cable announced a slew of promotions this week. In the sales and marketing departments, Kavita Vazirani was upped to svp, media strategy and sciences, while Eileen Diskin assumed the role of svp, marketing communications, sales and marketing. Eileen tells us she once won a skeet shooting contest at a black tie wedding (in high heels!), beating out more than 75 men and women. She's also passionate about interior design and has collected design articles for more than 15 years. She shared a highlight of her early career days with us: At her first job as production director at ABC's KOMO, she spent several hours with Bill Clinton while he was on the campaign trial. "Very exciting opportunity right out of college," she says.
Sarah Gitchell and Jeff Smith
In Comcast Cable's legal department, Sarah Gitchell was promoted to svp, deputy general counsel and chief counsel, content acquisition. She'll head up the legal team supporting content licensing arrangements, like retrans consent dealings with broadcasters, affiliate agreements with satcasters and new media deals for multiplatform content. Also in legal: Jeff Smith was elevated to svp, deputy general counsel, general operations. He'll manage the team that provides legal counsel for initiatives involving packaging and pricing, marketing, procurement and commercial business services, and more.
Adrian O'Leary and Jason Press
In the technology and product department at Comcast Cable, Adrian O'Leary was upped to svp, test & quality assurance. He'll lead quality initiatives across tech organizations and is responsible for end-to-end testing operations for the National Engineering and Technical Operations. Meanwhile, Jason Press was promoted to svp, software engineering & operations. His duties include leading consumer software applications development and operations in the group.
John Gibbs
Comcast Cable's government affairs department saw the promotion of John Gibbs as svp, government affairs. He'll lead Comcast's state-level government affairs across the U.S., oversee state government affairs for NBCU and coordinate the executive committee on Internet Essentials. John tells us he's an active bagpiper with the Minnesota Police competitive pipe band. He's also an elected member of Minneapolis' Three Rivers Park Board.
Jeur Abeln and Jennifer Yohe Wagner
Lastly, the procurement department at Comcast Cable saw two promotions, with Jeur Abeln and Jennifer Yohe Wagner each assuming the role of svp, procurement. Abeln leads procurement strategy for customer premise equipment, professional services and billing, and focuses on driving product innovation. Jeur is Dutch, we learned, and relocated to Philadelphia from Amsterdam in 2012. He loves to play tennis, swim and bike, and, time permitting, he enjoys traveling the globe with his family. Wagner is responsible for negotiations for Comcast's infrastructure technology, including network hardware, software, telecom and supplier diversity. Jennifer tells us she knows more about the NFL than do most men. Also, she's participated in 11 60-mile Susan G. Komen Breast Cancer walks.
John. B. Manos
EWTN Global Catholic Network has appointed John. B. Manos to vp and general counsel, Enrique Duprat to the newly-created position of vp of Spanish language production and marketing, and Peter Gagnon to the vp of programming and production post. Manos will oversee all legal and regulatory activities and also serve as corporate secretary for the network. Manos first worked at EWTN in the '90s, as corporate director of safety. He left to practice law and later became Assistant Attorney General for Michigan. He returned to the network as general counsel in 2007. John has a dog named Fyodor who is addicted to watching H2. Really. He growls when the channel is changed from "Ancient Aliens." Also, we hear he's a pretty good cook and is known in some circles as "Iron Chef Greek."
Enrique Duprat
As vp of Spanish language production and marketing at EWTN, Duprat will help expand the presence of the network in Hispanic markets around the world. He's been at EWTN for more than 15 years. Prior to that, he worked as a creative director at top ad agencies in Latin America and the U.S. In fact, he was known as "El Curita" (The Priest), since he was the one consulted to determine whether advertising campaigns would pass muster with Catholic audiences. Enrique's father was Argentinian and his mother was Cuban. His mother's family owned "El Diario de la Marina," the biggest newspaper in Cuba, but lost it because the paper opposed the revolution of Fidel Castro. His family escaped Cuba and reunited in the U.S. and in Venezuela.
Peter Gagnon
Peter Gagnon's new role in programming and production at EWTN entails management of program scheduling and promotion and production initiatives. He's worked at EWTN for nearly 21 years. Roles included international project manager and, most recently, director of programming & production. Peter tells us he met the late Pope John Paul II in person in 1999. In April, he will be in charge of EWTN's Rome coverage of Pope Francis' canonization of the soon-to-be-saint. Peter has six children and is the youngest of six, himself. He goes ice fishing every year with his brothers and sons and enjoys woodworking in his free time.
AMC has hired Tracey Lentz as vp of unscripted programming. She comes to the network from 3Ball Productions/Eyeworks USA, where she held the post of vp, development. She has worked in creative positions at Current TV, ABC Media Productions, TLC, GSN and Showtime Networks as well.