Cathy Avgiris
Comcast promoted Cathy Avgiris to EVP, GM of the data and communications group, where she'll be in charge of the rollout of new Verizon Wireless packages for consumers. She spoke to CableFAX Daily about how she sees the partnership working. While the new retail arrangements are obviously a huge part of her job, she'll continue to lead all aspects of Comcast's Internet and Voice services. "We announced last June this partnership with Skype to do Skype on Xfinity. That's going to be coming out fairly shortly," she said. "I think that's a great opportunity for customers to rethink their communications and be in the moment when they're dealing with family and friends across state lines, country lines." She also promises continued innovation in the voice space, with Comcast most recently launching free, unlimited text messaging. "We want to use that to reinforce our savings message, which has been a pillar of our voice product and triple-play."
 Shari Kaufman
At Showtime, Shari Kaufman now occupies the new position of VP, Talent Relations and Events, and Kate Meyer was promoted to VP, Awards and Film Festivals. They'll both report to Trisha Cardoso, EVP, Corporate Communications. Kaufman will oversee all events, including planning and strategy, and cultivate relationships with talent and execs. She comes from her own boutique agency SKPR. The last wrung on the ladder for Meyer was Senior Director, Awards and Film Festivals, where she helped put together award campaigns for the Golden Globes and the Emmys, among others.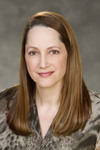 Kate Meyer

Sal Maniaci rejoined Nickelodeon as SVP, Event and Original Programming, after stints at TV Land and The New TNN (now Spike TV). At TV Land he developed the net's original slate and garnered 2 Emmy noms as a producer. Maniaci will report to Marjorie Cohn and oversee event and original programming for Nick, including the Kids' Choice Awards and the new telenovela, "Reach For a Star."


 Jamie Horowitz
ESPN promoted Jamie Horowitz to VP, Original Programming and Production, where he'll work with production folks to create new shows, projects and segments within existing shows. Horowitz has been at ESPN for the past 5 years, his most recent position being Coordinating Producer in the studio and event production department. He'll report to Norby Williamson, EVO, Programming and Acquisitions, for originals, and Marcia Keegan, VP, Production, for existing projects.

Maria Laino DeLuca
Maria Laino DeLuca will add affiliate initiatives to her job description, as Bravo Media's new VP, Trade Marketing. Formerly Senior Director of Ad Sales Marketing, DeLuca will develop multiplatform promotions, identify marketplace trends and develop the nets' upfront strategy. She's also worked for MTV Nets, most recently as Director of Consumer Marketing for Nickelodeon. DeLuca will work out of New York and report to SVP, Marketing, Ellen Stone.