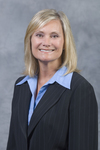 Jill Campbell
Jill Campbell was upped to EVP, COO, for Cox, replacing 28-year Cox vet Leo Brennan, who retires in May. Campbell most recently served as SVP, Field Ops and was among CableFAX: The Magazine's Top Ten highest-ranked "Most Powerful Women in Cable" last year. "I am proud of the fact that I came up through the ranks as a woman in operations and that I'm one of only a few women at my level," she told the mag. "I would love to see more young women follow in my footsteps."
Indeed, there haven't been a lot of women in the COO spot for the industry's top MSOs. Maggie Bellville served as COO at Charter from '02-'05 and now is a consultant in Atlanta. Bellville had a prior stint at Cox as EVP, Operations, and as she was leaving the MSO, encouraged Campbell (then running Cox Las Vegas) to apply for a job in corporate. "Jill has navigated very successfully at Cox Communications for 30 years," Bellville said Tuesday. "She has proven to be a great leader and role model for many people. People gravitate to her because she is real. There are no pretentions there."
Campbell joined Cox in '92 as Direction, Communications, in OK, taking on a variety of roles at the company, including VP, GM, for Cox in CA and NV. As COO, she'll be responsible for overseeing day-to-day operations and ensuring companywide alignment on strategies. "Jill will play a key role in positioning Cox for continued marketplace success…Jill brings a diverse set of leadership skills, extensive operations expertise and a successful track record that we will leverage across the company," said Cox pres Pat Esser. As part of the changes at Cox, Alexander Taylor moves into Campbell's role as SVP, Field Operations. Cox also announced that CFO Mark Bowser's job will expand to include oversight of Cox Business and Cox Media.

Ed Palluth
Ed Palluth was promoted to EVP, Global Distribution, AMC/Sundance Channel Global, an upgrade from the SVP role. The 18-year AMC veteran will still deal with distribution for the Nets' international properties including Sundance Channel and WE tv, which he's helped launch in various international markets in Europe and Asia. He reports to Bruce Tuchman, President, AMC/Sundance Channel Global. Palluth's passion is the guitar. Since his wife Joan bought him one six years ago, he can't put it down. He's currently into Texas crooner Todd Snider's tunes and reading "The Essential Johnny Cash Songbook."
There's more shuffling going on at Scripps Nets this week, this time at Food Network. Brian Lando was promoted to SVP, Development, for SNI. He'll relocate to LA for the upgraded gig, where he'll continue oversight of programming for Food Network and Cooking Channel while adding HGTV and Travel Channel to the list. Lando has worked at Food Net since 2006 and has been behind shows such as "Best Thing I Ever Ate," "Cupcake Wars" and "Restaurant: Impossible." And apparently, he's not so bad in front of the camera, either. You may have spotted him on TV in the '80's in "Designing Women," playing Mary Jo's son Quinton. Another lesser-known fact about Lando: he can kick a ball around. Quite well, in fact. He played Division I soccer at Syracuse—until the 6am training got in the way of other college pursuits.