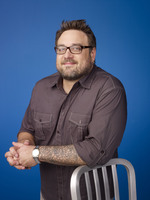 Jason DeMarco
Jason DeMarco was upped to VP, Strategic Marketing and Partnerships for Cartoon Network and Adult Swim. He'll develop promotional marketing programs, oversee integrated promotions and sponsorships and supervise Turner Broadcasting's Animation, Young Adults and Kids Media (AYAKM) events and trade marketing, including upfronts. His prior post was Creative Director, Sales Promotions, where he founded Adult Swim's Williams Street Records, named after the address of Adult Swim's HQ in Atlanta. The story goes, Jason's work with producer Brian Burton, aka Danger Mouse, caught the attention of senior execs at Adult Swim and paved the way for the formation of the net's label. He tells CableFAX he's super excited about his upcoming Killer Mike album he exec produced, called "R.A.P. Music," which will come out May 15. Fun fact: Jason's tattoo (pictured) was designed by his colleague Jacob Escobedo, VP, Design, Cartoon Network—and it only took 40 hours to complete.
Bill McGoldrick
Bill McGoldrick is now EVP, Original Scripted Programming for USA Network, and continues to oversee the net's development of scripted drama and comedy series, long-form and event programming. With McGoldrick on board, USA has nearly doubled the amount of originals, with this 6 returning series and 2 new series to air this summer. Before coming back to USA in 2009 (he was an executive assistant back in '98), he served as VP, Original Series Programming at Spike TV. Bill is from Chicago, but stresses that he's NOT a Cubs fan. The White Sox, all the way. His favorite thing to eat? "Anything my wife cooks." Good man.
Raghunadh Polavarapu
Turner hired Raghunadh Polavarapu as VP, Digital Operations for TNT, TBS and TCM. The newly created position calls for leading the nets' digital mission, including managing the daily technical ops of the TBS, TNT and TCM sites, mobile platforms and planning for future growth. He reports to Dennis Adamovich, SVP, Brand and Digital Activation, and is based out of Atlanta. Polavarapu assisted Turner's TV Everywhere rollout and launch of companion apps and YouTube branded channels as a consultant last year. Prior to that, he was the director of interactive and research & development at WCG, Inc. Impressive fact about Raghu: He speaks six languages fluently. He also enjoys playing with his two children, taking photos with his state-of-the-art Mamiya camera, cooking goat biryani (his favorite dish) and supporting efforts to cure cancer, diabetes and obesity.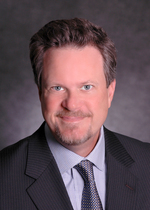 John Feld
John Feld has joined Scripps as Director of Programming for HGTV and DIY Network. He'll manage series and specials for both nets and report to Steven Lerner, VP, Programming. Feld has served as a writer and producer of HGTV's "Interiors, Inc." and also worked as CMT's Director of Program Development and Production. Another accomplishment: He won an Emmy as Director of Field Production for "Martha Stewart Living." Additionally, Disney Channel, PBS, A&E and CBS's "Guiding Light" populate his resume. Speaking of daytime dramas, John is an accomplished singer/songwriter—and composing music for soap operas is one of his many credits.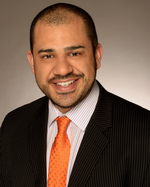 Jeff Meza
TV One's new VP of Integrated Marketing is Jeff Meza, formerly Director of Strategic Marketing at SyFy. He's also held posts at WE tv, Wedding Central and ABC. Meza is active in cable's community associations, including NAMIC, where he serves as Sponsorship Committee Co-Chair for the NY Chapter, and CTAM, where he's an Advisory Board Member. In his new post he'll lead strategy and creative execution of multi-platform marketing, work closely with ad sales and manage the net's strategic brand partnerships. Meza, we learned, in originally from Lima, Peru. He has hiked to the peak of Huayna Picchu, which is actually 8920 feet above sea level—1180 feet higher than Machu Picchu. Impressed yet? There's more. He plays three musical instruments (saxophone, flute and clarinet) and he competed competitively as a contemporary musical singer.