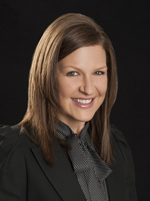 Mariana Flynn
Lifetime has named Mariana Flynn vp on non-fiction programming. She comes from TLC, where she served as vp of development. Prior to that, Flynn held the role of director of development and production. Before arriving at TLC she was director of alternative and specials for NBC Entertainment, which entailed developing and managing series on USA Network and Syfy. She also served in the manager and director of development roles at A. Smith & Company Productions. Marianna, we learned, is from Brazil and speaks fluent Portuguese. Also, she has an unhealthy obsession with Chai lattes from Starbucks, Pinterest and Target.
Michael Feeney
Michael Feeney has been upped to evp, corporate communications for A+E Networks. In this capacity he serves as the chief spokesperson for the company's networks as well as the ad sales, distribution, international, digital and consumer product divisions. In January 2006, Feeney was appointed to the svp role. He joined the company as director of History publicity and public affairs in 2001 and was then promoted to vp of publicity for A&E Network and Bio. Feeney started his career as an NBC Page and was promoted to several posts in NBC's corporate communications. We hear that Michael loves to play tennis. Additionally, he has encyclopedic knowledge of fabulous restaurants in many cities around the world. Among his favorites are The Nomad Hotel in York City and Maison Blanc in London.
Scott Woodward
Ovation has hired Scott Woodward as svp, programming and production. In this capacity he'll oversee scheduling and program planning, acquisitions, co-productions, development, original programming, on-air promotions, VOD and digital operations. Another part of his job entails oversight of the company's new multiplatform production unit, Ovation Studios. His previous role was vp, programming and production at TVGN, and before that he was executive producer for global online series and specials for E!. Woodward got his start as a creative director in the marketing division at Columbia Pictures and then later launched Scott Woodward Productions, which produced and distributed EPKs for various content companies. Scott's first job was as a PA for Live from Lincoln Center, he tells us. He's also a self-described science nerd and an Atlanta Falcons football fan.
Nikki Santoro
Nikki Santoro has joined the Weather Channel as vp of mobile. The direction, vision, deployment and management of the net's mobile and web-based apps on smartphones and tablets fall under her purview. She'll also manage its mobile product team and lead product strategy, design and implementation. She comes from Premiere Global Services, where as vp she established the PGi Innovation Lab, an incubator for breakthrough ideas and products. She also served as vp of virtual products at the company. Other roles include CEO at virtual worlds startup Halcyon Worlds, founder and CEO of Kinnection, Inc., and a decade-long stint at Microsoft Corporation, including group program manager of MSN Messenger. Nikki tells us that she loves playing European-style board games with her friends and family. "A few of us are even working on a tablet version of one of our favorites," she says. Another fun—albeit bittersweet—fact about Nikki: At the end of the U.S. versus Ghana match of the 2006 World Cup in Germany, you can see a close up of her and her husband [see below] looking very disappointed in their team's loss. Better luck in 2014, Nikki!