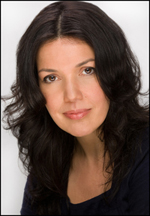 Sarah Barnett
Sarah Barnett has been promoted to president and gm of Sundance Channel, a step up from the evp/gm role, which she's held since 2009. She has steered the network through its embrace of original, scripted content and new unscripted shows, such as "Push Girls." Previously, she was svp marketing for the net and also held the role of vp, on-air at BBC America. Prior to that she directed and produced projects for BBC radio and TV. Sarah, we learned, is "distantly related to the late, great actor Peter Sellers." Also, she eats an apple every single day.
Ryan Wallach Madura Wijewardena
Comcast has hired Ryan Wallach as senior deputy, General Counsel and Madura Wijewardena as senior director, Public Policy. Wallach will oversee legal analysis and advocacy of regulatory and litigation issues. Prior to joining Comcast he was special counsel at Willkie, Farr & Gallagher LLP, tending to matters of regulatory and legislative policy and compliance. For the last seven years, he has been a professorial lecturer in law at the George Washington University Law School, where he teaches a course on communications law. Additionally, he was a judicial clerk to The Honorable Clyde H. Hamilton at the U.S. Court of Appeals for the Fourth Circuit in Columbia, SC, and to The Honorable Harold H. Greene at the U.S. District Court for the District of Columbia in Washington. Ryan, we learned, is quite the early riser. He finds the time to work out, eat breakfast, drink several cups of coffee, check his fantasy hockey stats from the day prior and get to the office before most are even waking up. We're told he experiences more stress and anxiety over his favorite sports teams (Caps, Buckeyes, Bengals, Reds, Nats, Wizards, Redskins, in that order) than he does from life and work. Also, he's a big fan of rugby. He played with the Maryland Exiles Rugby Club for several years and currently serves as the club treasurer.
Wijewardena will deal with emerging public policy issues for Comcast. Before joining the company he was director, Research & Policy for the National Urban League and also worked for a consulting firm in Chicago on using data analysis to assist governments and groups develop policies. He also was part of President Obama's first campaign in Chicago, and for eight years served as a corporate attorney in telecom and media. Madura has lived and worked all over the world, but his favorite cities are
Sydney and Chicago. Sydney for the weather and the ocean, and Chicago for the people and the music, he says. He also loves to watch movies in his spare time, especially biopics and action films.
Hilary Smith
Hilary Smith has been tapped for the svp, Communications role at USA Network. She'll serve as lead spokesperson and head up strategic communications for the network, including all programming, digital, marketing and the Character's Unite campaign. Her last post was head of communications for the NBCU Entertainment & Digital Networks and Integrated Media group. She oversaw consumer and trade marketing for NBCU's Integrated Media business as well. For seven years, Smith was vp, Media Relations for corporate communications, and played a key role in press management during the mergers and acquisitions. She came to NBCU in 1998 as senior manager of Public Relations for "Dateline NBC." Prior to that, she was a press manager at CBS News. Hilary tells us she loves to collect photos from emerging photographers. She is a native of Manhattan and when she isn't running around with her two kids, she plays tennis and enjoys spinning class.
Justin Williams
Justin Williams is now vp, Digital for TNT and TBS. He's charged with oversight of consumer engagement with the net's shows across digital platforms, including design, editorial, promotions and project management. Additionally, he'll focus on TV Everywhere initiatives. He'll report to Dennis Adamovich, svp, Digital, Affiliate, Lifestyle and Enterprise Commerce for TBS, TNT and Turner Classic Movies. Most recently, Williams was senior director and gm of NASCAR.COM for Turner Sports. He also served as a digital marketing consultant, vp, Strategic Development for Echo and director of New Media for the Gospel Music Channel. ?Other roles at Turner have included senior director, Platform Research and Development and director of Business Development and Community for Cartoon Network's New Media group.